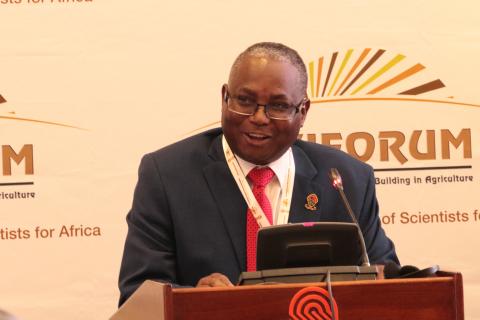 Nairobi, Kenya – The University of Zambia (UNZA) Vice-Chancellor, Prof. Luke E. Mumba, says that the development of the Agricultural Sector in Africa is key in the achievement of Agenda 2063. He said this during the Sixth African Higher Education Week and Regional Universities Forum for Capacity Building in Agriculture (RUFORUM) Biennial Conference at Kenyatta International Conference Centre in Nairobi, Kenya, on Wednesday, 24th October 2018.
Prof. Mumba said that the Universities had a critical role to play in producing evidence-based research which focuses on how Africa could increase agricultural productivity through promotion of Smart Agriculture in the face of climate change and the need to optimize on the use of water and the environment.
To achieve this. Prof Luke Mumba pointed out the need to share competencies and infrastructure across the African region. He argued further attainment of the goals of Agenda 2063 would be speeded if the continent prioritised the right to education for all as tool for achieving social cohesion and eradication of household poverty.
He indicated that promoting the blue economy as a national policy in the area of sustainable fisheries and use of marine resources was key in repositioning the Agricultural sector to effectively support the achievement of the aspirations embedded in Agenda 2063. He added, ''Universities can go further to influence policy on how to address emerging political issues in climate change in so far as it impacts on Agriculture'.
Prof. Mumba highlighted the following as interventions that could lead to the achievement of the Agenda 2063 underpinned by the theme The Africa we want:
1.    Promote shared competencies;
2.    Promote right to education;
3.    Promote policy convergence in Agriculture and;
4.    Addressing the emerging politics of climate change.
The Sixth African Higher Education Week and RUFORUM Biennial Conference is hosted by the Kenyan Government and RUFORUM member universities under the theme, "Aligning African Universities to accelerate attainment of Africa's Agenda 2063". The conference has attracted over 1,200 participants from across Africa and beyond with over 15 Governments represented by their responsible ministers for Agriculture, Education, Science and Technology.
UNZA is ably represented by Vice-Chancellor, Prof. Luke Mumba, Dean, School of Agricultural Sciences, Dr Benson Chishala, Director, UNZA Agricultural Technology Demonstration Centre, Dr. Mick Mwala, Assistant Director, Directorate of Research and Graduate Studies, Dr. Alice Mweetwa, and ACEIDHA Centre Secretary, Dr Andrew Phiri.
By Damaseke Chibale, Manager Public Relations and Kennedy Msusa, AAVC