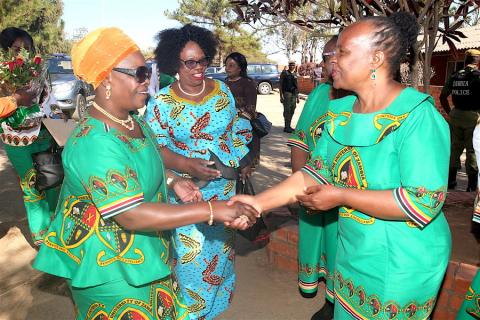 The University of Zambia (UNZA) ladies led by the Acting Vice-Chancellor, Prof. Enala Tembo-Mwase, on Friday, 12th July 2019 held a Special Women's Day Celebrations which was graced by the First Lady, Madam Esther Lungu. The special celebrations which was held under the theme: "The Role of Women In Environmental Protection: Towards A Clean and Green Environment for A Better Future", also marked as the official unveiling of the Jubilee Gardens set up by UNZA women to promote the 'Keep UNZA Clean and Green campaign' as well as to serve as a Centre of Excellence for the institution. The garden also seeks to promote the element of Unity, Peace and Wellness. The Garden was initially launched by the first Republican President, Dr Kenneth David Kaunda, on Sunday, 29th May 2016 during the UNZA Golden Jubilee celebrations.
Speaking during the celebrations, the First Lady, Madam Esther Lungu, thanked UNZA women for coming up with an initiative to promote environmental protection and to champion the "Keep Zambia Clean and Green campaign" which was re-launched by the Government recently.
Mrs Lungu observed that the environment was fast deteriorating with visible drastic changes taking place due to climate change, which has been induced by evolving lifestyles and that humanity was the major contributor in degenerating the environment. She added that the effects of climate change were more pronounced now than ever before. She said that that was evidenced by the depletion of water resources - both groundwater and surface water which had negatively affected the crop yield thereby threatening the country's food security.
"That is why protecting the environment is a matter of great importance for all of us. It is heartening to learn that UNZA women came up with this idea of establishing the Jubilee Gardens within the campus. I am encouraged that women have recognised the importance of conserving our natural resources and getting involved in this noble cause," Madam Lungu said.
And UNZA Acting Vice-Chancellor, Prof Mwase, added that one of the core values of UNZA was to look after the environment in an eco-friendly manner. She noted that there could be many reasons why it was proving difficult to keep the environment clean and green. She singled out one major reason as attitude.
"Guest of Honour, I wish to stress that the purpose of the Jubilee Garden as earlier alluded to is to promote the Keep Zambia Clean and Green, serve as a Centre of Excellence as well as to promote Unity, Peace and Wellness for those who chose to use the garden in a positive manner,'' Prof. Mwase said.
She added that when setting up the gardens, UNZA women realised that both students and staff pass through stressful moments, hence it was thought that a garden of this nature would assist in calming the affected.
"There are two labyrinths in this garden, which are paths created in some form of a maze. These, I am made to understand, are good for thinking and stress relief," she said.
Prof Mwase revealed that plans were under to install three water fountains in the garden as well as to resuscitate the dry lake adjacent to the garden. And students from the School of Engineering have taken up that project under the supervision of Engineer, Joseph Shikabongo.
UNZA Caretaker Committee of Council Chairperson, Ms Namucana Musiwa, said women were better ambassadors to carry the message of environmental protection because of their linkage with the environment. She, however, called on everyone regardless of gender to participate in ensuring that the environment was clean and green both at places of work and homes.
Kafue Member of Parliament and Vice-Chairperson of the Committee on Energy, Water Development and Tourism, Mrs Mirriam Chonya, MP, commended UNZA women for taking a leading role in promoting environmental protection. Mrs Chonya noted that the initiative taken by UNZA women was timely especially in this age of environmental concerns.
''One may want to ask why specifically put emphasis on the role of women in environmental protection? This is because women play a critical role in managing natural resources at family and community level. Here in Zambia, women in communities interact with the environment through access to water, fuelwood for energy and food. The availability of these resources is largely dependant on a healthy ecosystem,'' she said.
Meanwhile, Rwandan High Commissioner to Zambia, Her Excellency, Ms Monique Mukaruliza, said the role of women in protecting the environment could not be over-emphasised. Sharing lessons from Rwanda how that country has evolved to be the beauty of Africa, Ms Mukaluriza said women were at the centre of intensive mobilisation through the community work called "Umuganda".
 "Through Umuganda, various activities are done from construction, planting of trees to general cleaning both at village and city level,'' she said. Ms Mukaluriza said the outcome of current Rwanda was owed to concerted efforts largely spearheaded by women who have educated their children to keep the environment clean.
And Zambia Environmental Management Agency Director of Legal, Ms Karen Banda, said that women's engagement in the adoption of remedies aimed at dealing with issues of climate change was cardinal and strengthening their capacity in environmental protection was an essential step in building more disaster-resilient communities.
Former Dean School of Education and the only man invited to make a presentation on the Special Women's Day celebrations because of his love for the environment,  Dr Oswell Chakulimba, commended UNZA women for their gesture and implored everyone to support the initiative.