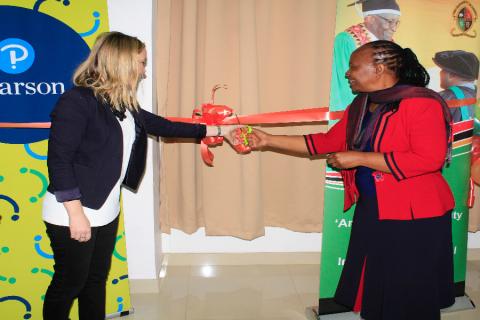 The University of Zambia (UNZA) in its continued quest to respond to market demand-driven programmes has partnered with Person International to provide Non-Science Based A-Levels.
Speaking during the launch of the A-Level Academy at the University of Zambia, Acting Vice-Chancellor, Professor Enala Tembo-Mwase said UNZA was excited to continue responding to market demands by offering market-driven programmes. Prof Mwase said UNZA had been offering science-based A-levels under the School of Natural Sciences since 2000, however, there has been a growing demand for non-science based A-levels as revealed from the market research findings which was recently conducted. "The A-levels academy is another direct response to an identified market niche in the secondary and tertiary education sector. A-levels will provide a smooth pathway to tertiary education at UNZA or any other local or foreign university. As UNZA, we are glad to mention that we are in sync with the government's national higher education policy, therefore, as an institution, we can proudly say we are ready to help the government in building capacities and actualize ideas that are vital in the country's implementation of various national development plans," she said.
Prof Mwase added that the launch of the academy was also a response to the 2018 – 2022 institutional strategic plan which seeks to reposition UNZA for global excellence. "In line with the university's values of excellence and innovativeness, we shall continue to strive to go beyond the ordinary in order to ensure that we have superior standards in our teaching, research and community service. We shall apply novel ideas, methods and practices in our areas of operation.
UNZA has the capacity and qualified human resource to deliver quality A-levels to our communities. You are therefore assured of quality delivery of Non-Science Based A-levels for the benefit of the nation at large, I, therefore, urge you all to spread the news about this development," she said.
Speaking at the same launch, Pearson International Head of Business Development, Ms Christine Hayes said her organisation has worked with UNZA for many years in association with the Faculty of Natural Sciences A-Level Unit, however, this new Academy will enable far greater access to a broader range of subjects, supporting students to progress into the full variety of degree programs available across UNZA faculties.
 ''Our unique insight and expertise come from this long history of working closely with teachers, learners, authors and thought leaders. Many of you will know Pearson by our history in Africa operating under familiar brands such as Heinemann and Longman," she said. Ms Hayes added that with over 150 years of international education experience, Pearson qualifications had a firm academic foundation, built on the traditions and rigour associated with Britain's education system. She said Pearson was the UK's largest awarding organisation for academic and vocational qualifications, first established in 1839 when a royal charter gave the University of London its powers to conduct examinations and confer degrees on its students.
Our World Class Qualifications program brings together experts to develop qualifications that will support young people around the globe to meet the challenges of today and to prepare them for the demands of the 21st century and the uncertainty of the 4th industrial Revolution'', she said.
Pearson is the world's leading learning company with over 35,000 employees across 70 countries, founded in England in 1844. Pearson Excel international academic qualifications were initially introduced in Zambia by the Ministry of Education to boost Math and Science skills in technical high schools to drive talent in the natural sciences fields. Excel qualifications are now becoming increasingly popular with students for both local and international university progression.