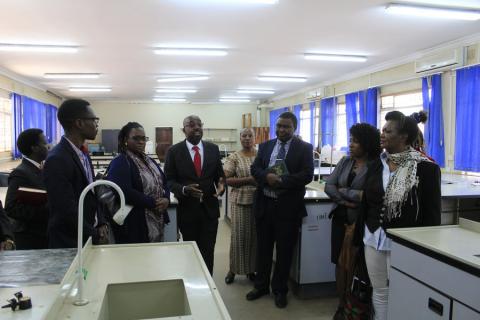 Minister of Higher Education Eng. Dr Brian Mushimba has bemoaned lack of adequate training equipment in the laboratories both at the University of Zambia and Copperbelt University.
Speaking during the familiarisation at the University of Zambia, Ridgeway campuses, Dr Mushimba said the training of medical personnel was critical and that it required hands-on experience before students could be channelled out into the field.
Dr Mushimba observed that a lack of adequate training apparatuses in the laboratories was worrying and that it needed to be addressed as a matter of urgency.
He said training of medical personnel required precision because it involved the handling of lives of the people. "What I am seeing here is the same as what I saw at CBU, we need to urgently address this situation," he said.
Dr Mushimba lamented that the situation obtaining at the two universities demand concerted efforts from all stakeholders to ensure that modern and right equipment was installed in the laboratories.
 "Lack of adequate of training equipment in the labs is a serious concern because if the status quo continues we will be producing professionals who may be missing something in their training and that will dangerous," he said.
And the Deans from the School of Medicine, Nursing, Public Health and Health Sciences at Ridgeway Campus have pleaded with the minister to consider improving funding to the university. Dr Sody Munsaka Dean School of Health Sciences in his remarks, which were also echoed by Professor Charles Michelo, Dean School of Public Health, Dr Catharine Mubita Ngoma, Dean School of Nursing Sciences and Dr Selestine Nzala, Acting Dean School of Medicine said lack of adequate infrastructure was a serious challenge for schools.
Dr Munsaka revealed that despite recording an increase in the enrolment ratios and having robust programmes the schools were limited in expansion due to lack of space and dilapidated infrastructure. "The other thing we want to passionately appeal to you Honourable Minister is to address the issue of the high attachment fees which have been introduced by the Ministry of Health," he said.
Dr Munsaka observed that the introduction of attachment fees was unnecessary and has affected the progression of students because most of them were not able to pay. "The failure to pay has led to many students withdrawing from school which is not good. Honourable Minister this is a political issue we hope your coming will help to resolve this matter, " he said.