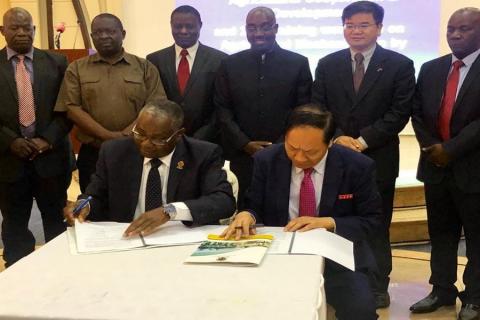 The University of Zambia (UNZA) has entered into a bilateral co-operation agreement with Jiangsu University (JU) from The People's Republic of China today, Wednesday, 31st July 2019 at the Best Western Plus Grand Hotel in Lusaka.
The signed memorandum of understanding (MoU) will see UNZA and JU collaborate in academic and joint research activities.
Speaking at the signing ceremony, Minister of Higher Education, Hon. Dr Brian Mushimba, MP, assured the two universities of Government's support and commitment towards the successful execution of the collaborative partnership.
Meanwhile, UNZA Vice-Chancellor, Prof. Luke Mumba, said the signed MoU would allow UNZA and JU to cooperate in the development, promotion of research, teaching and technological development.
Prof. Mumba stated that the partnership would also allow for an exchange of academic staff, scholars and students.
"The collaboration will also promote cooperation in areas around sponsoring research seminars, training workshops and exchange of programmes of research publications and information," Prof Mumba said.
Apart from this MoU UNZA has signed a number of development agreements with the Chinese Higher Education Institutions which include Jilin Agriculture University that operationalised the Agricultural Technology Development Demonstration Centre housed at Liempe farms and Hubei School of Economics and Business Management which saw the establishment as well as operationalisation of the Confucius Institute at UNZA's Great East Road campus.
Through the signing of these MoUs, UNZA reaffirms its commitment to working with strategic partners in realising its three educational pillars of teaching, research and community outreach.