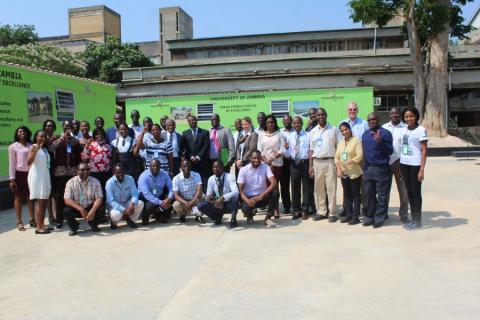 The Solar Energy Centre (SEC) under the Department of Physics, UNZA in collaboration with the Energy Research Centre, University of Cape Town and Smith School of Enterprise and Environment, University of Oxford has successfully held a one day workshop at the University of Zambia under the theme:
RURAL ELECTRIFICATION IN ZAMBIA -INTERDISCIPLINARY APPROACHES AND FINDINGS.
The purpose of the workshop is to converge academics with different specializations to share ideas, research methodologies and findings on rural electrification in Zambia.
Officially opening the workshop UNZA Acting Deputy Vice Chancellor Dr Micheal Mulenga, speaking on behalf of the Vice Chancellor Prof Luke Mumba said the use of renewable sources of energy including solar, wind, bio-gas, hydro, tidal and geothermal technologies in place of fossils fuels had a emerged as the most powerful way to mitigate climate change.
Prof Mumba observed that over-dependence on hydro electricity in Zambia has in itself been caught up with various ripple effects such as deforestation due to the high demand for charcoal which is being used in place of electricity.
He said with uncertainties in the rainfall patterns due to climate change it was necessary for academicians with different specializations to start brainstorming how the earth's resources can be sustainably managed without depleting them.
He appealed to participants to use the opportunity while together to come up with ideas which will help to formulate policies that will encourage the use of various alternative sources of renewable energy in the country.
And UNESCO Chair in Renewable Energy and Environment as well as Lecturer in the Department of Physics, Prof Prem Jain said the call for the use of alternative sources of energy was timely and long overdue. Prof Jain observed that the effects of climate change were likely to worsen, therefore, there was a need to support initiatives that promote alternative sources of energy. "Effects of climate change are real, therefore, the investment in alternative sources of energy should start now,'' he said. Prof Jain hoped that the one day workshop will help to come up with workable solutions towards the rural electrification in Zambia.