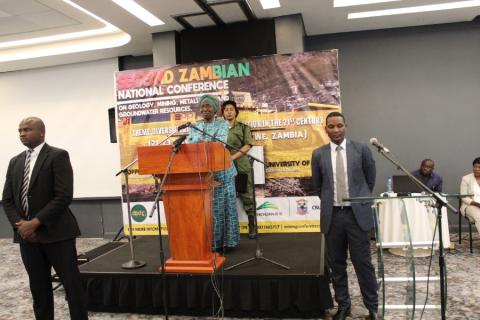 Her Honour the Vice President Madam Inonge Mutukwa Wina has officially opened the three days 2nd Zambia National Conference On Geology,Mining, Metallurgy and Groundwater Resources jointly organised by the University of Zambia and Copperbelt University under the theme: DIVERSIFICATION AND VALUE ADDITION IN THE 21ST CENTURY. And the Vice President has called for a strengthened collaboration between government, Mines, NGOs and institutions of higher learning in order to achieve the value addition especially in the mining sector. Speaking at the same conference the University of Zambia Vice Chancellor Prof Luke Mumba said the aim of the national conference was to bring together academics and researchers, industry and society to share the knowledge and experiences in order to explore ways and means of meeting the underlying current and future prospects, challenges and prospects especially in the area of mineral diversification and value addition. Prof Mumba further said one of the intended outcomes of the conference was to build local capacity and mining-related education in Zambia, as well as to provide a forum for students, young scientists and professionals to share, listen, interact and develop networks with national and international delegates and open prospects for future collaborative research and even employment.
And Copperbelt University Vice Chancellor Prof Naison Ngoma said in order to realise diversification and value addition there was a need to adequately fund higher institutions of learning. Prof Ngoma said quality education was key to development, therefore, the government should place a high premium on ensuring that universities were supported financially. "We can sit here the whole day or two if you want but if we ignore the core ingredient which is quality education then we are doing nothing," he said.
 This year's conference theme was carefully chosen to mark a milestone of sustainable mining in Zambia. The conference also provided an opportunity to recognize the achievements/contributions some of the scholars, researchers and individuals have made towards the mining industry. The three days conference which was attended by Government Ministries, Mines, Non-Governmental Organisations, and researchers from within Zambia and around the region was held at Garden Court Hotel in Kitwe and it officially closed on Saturday 23rd November 2019.
Special thanks goes to the following sponsors:
CBU-ACESM..........Bronze Sponsor
Centre for Trade Policy and Development (CTPD)..........Silver Sponsor
Mopani Copper Mines Plc............Gold Sponsor
UNZA ESDA................................Platinum Sponsor