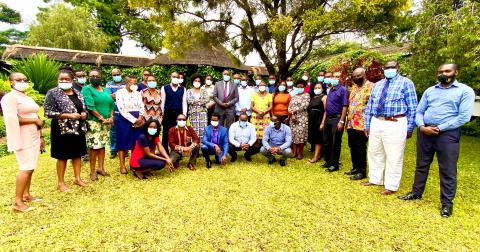 The University of Zambia Vice-Chancellor (UNZA), Luke Evuta Mumba has hailed the Strengthening Health Professional Workforce Education Programs For Improved Quality Health Care in Zambia (SHEPIZ) for assisting the Schools of Medicine and Nursing Sciences for revising their curricula which led to the reduction of years of study for Medicine and Nursing Sciences. The degree programme of Medicine has been reduced from 7 years to 6 years whereas the Nursing Science programme now runs for 4 years instead of 5 years.
Prof Mumba virtually revealed this during the official opening of the SHEPIZ Sponsored workshop on Module Writing at Kafue Gorge Training Centre on Monday, 8th February 2021. He further says that, since its inception in 1965, UNZA, through its health training programmes, has continued to produce graduates who are influencing national policy decisions and practice, with a notable influence on improved clinical service.
"With the right support, the School of Medicine, and now the new School of Nursing Sciences have capacity to train health care providers at specialist level in response to the growing demand," Prof Mumba said.
Prof. Mumba reiterated that UNZA has a deliberate policy aimed at encouraging innovative strategies for improving the programmes it offer and that the SHEPIZ project was one such strategy since the project's main aim is to have innovative medical education programme enhancement focused on health services, multi-level research capacity building and continued development of sub-specialist trained health care providers.
"I would encourage you to take on this noble assignment seriously with dignity, bearing in mind that the tools we develop will be used to train health care workers for many years to come, as already mentioned, UNZA is in full support of this effort", he said.
And SHEPIZ Project Manager who is UNZA Dean, School of Nursing Sciences, Dr. Patricia Mukwato, thanked the participants for responding to the invitation and their willingness to impact the health care training through their individual contribution by developing modules
The objectives of the Module Writing Workshop are as follows:
Understand principles of distance learning, open distance learning, open distance e-Learning, and flexible learning.

Apply the principles of opening distance e-Learning to module development

Plan and develop a module

Integrate ICT tools in the module to enhance learning
(SHEPIZ) a project administered by the UNZA School of Medicine in collaboration with the School of Nursing Sciences is conducting a curriculum review workshop from the 8th of February to 12th February 2021 with the aim of imparting skills for development of online modules for Lecturers and Facilitators that enhance learning experience.