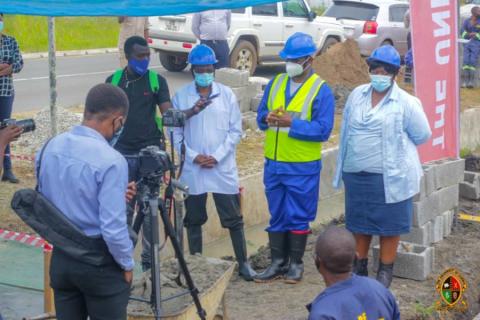 The University of Zambia (UNZA) has commenced the construction of the three (3) kilometres perimeter wall fence aimed at securing the institution from vandals and theft activities.
Speaking during the official ground-breaking and laying of the foundation stone ceremony, University of Zambia Vice Chancellor, Prof. Luke Evuta Mumba says that, once completed, the wall fence will enhance the outlook of the university but also improve the security of its infrastructure as well as the community living and working within the institution. 
The Vice Chancellor has thanked the government of the Republic of Zambia, in particular the Ministry of Local Government for funding the construction process. The Vice Chancellor adds that, the funds for the construction of the wall fence have been derived from a compensation arising from the land affected by the construction of the new road connecting Nangwenya and Kamloops roads.
The University of Zambia has in the recent past embarked on a massive infrastructure development program, demonstrated by a number of projects at both the Great East Road and Ridgeway campuses. Of note, is the East Park Mall developed by Graduare Property Development Limited, the construction of student hostels which are yet to be completed, the construction of the road connecting Nangwenya and Kamloops roads and most recently the completion of the Teaching and Learning Complex commissioned by the Republican President, Dr. Edgar Chagwa Lungu. 
While the University of Zambia notes with pride, that these developments have changed the outlook of the university, it also notes that the developments have exposed the institution to a number of entrances into its premises. This exposure has in turn brought about challenges in effectively providing security to the university and its important installations. 
To secure the university from vandals and theft activities,  Management of the institution has embarked on a project of constructing a perimeter wall fence around the university which is expected to be completed within three (3) months.