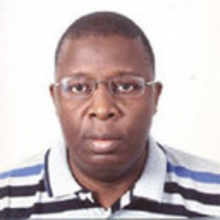 Department of Soil Science
Biography
Academic Qualifications:
PhD. Applied Biological Science (Land Management & Forestry), Ghent University, Belgium
MSc. Soil Science (Soil Physics & Soil Chemistry), Ghent University, 
B. Agric Sc. (Soil Science), University of Zambia
Dr. Elijah Phiri joined the university (UNZA) as a lecturer in January, 1994. Prior to that, he worked under the Ministry of Agriculture as an Agricultural Research Officer (Soil Physicist) and was based at Mount Makulu Agriculture Research Station within the Soil Research Team. At the University of Zambia, Dr Phiri is involved in the core activities of the university: teaching, research and community service. He currently teaches undergraduate and graduate courses in Soil Physics, Irrigation and Agroclimatology. Within the University of Zambia, Dr Phiri has raised the profile of the institution in providing funding for research and training programmes. He also supervises masters and doctoral students in land management. Dr Phiri is also involved in information communication technology (ICT) application, dissemination, and promotion of e-material generation in the faculty. Dr Phiri has provided leadership for the development AU/NEPAD CAADP Pillar 1 Framework and has represented AU/NEPAD Secretariat on several continental and regional meetings under the Comprehensive Africa Agriculture Programme (CAADP) and African framework on Sustainable Land and Water Management (SLWM).
 
Publications
On-going Research
Co-Principal Researcher 2017-2021: Strengthening Capacity in Environmental Physics, Hydrology, and Statistics for Conservation Agriculture Research (CEPHaS Project) RCUK Collective Fund (UNZA - ₤800,000; Total Grant: €5,000,000) funded
Co-Principal Researcher: 2015-2020: Royal Society - DFID Africa Capacity Building Initiative Grant: Strengthening African capacity in soil geochemistry to inform agricultural and health policies. Involving 8 Partners from UK (NU, BGS), Malawi (MoA, LUNAR), Zambia (UNZA, ZARI), Zimbabwe (UZ, MoA) (UNZA - ₤160,000; Total Grant: €1,243,000) funded - 1 PhD Student enrolled at UNZA and funded by the Project
Co-Principal Researcher: 2013-2017: APPSA/CARDESSA Research Grant: Improving water use efficiency in maize production: Partners:  Kasinthula Agricultural Research Station (Malawi), University of Zambia (Zambia) and University Eduardo Mondlane (Mozambique). Total 3-Year Budget Budget $400,000 (UNZA $100,000), funded
Project Coordinator: 2011-2015 AGRA Training Grant: MSc Student Training Research Funding in integrated Soil Fertility Management; Total Grant-US$ 371,000 (Research equipment and 1 vehicle purchase supported in the funding)
Work Package Leader: 2010-2015 European Union (EU) Research Grant: Enhancing and sustaining agricultural productivity in irrigated farming systems in Africa. Consortium of partners with UNZA Coordinating the Communication and Information Dissemination Work Package (UNZA- €256,000; Total Grant: €4 Million by 13 Consortium Members)
Selected Publications
Phiri E and Zimba S. 2018. Root-zone soil water balance and sunflower yield under deficit irrigation in Zambia. Open Journal of Soil Science 08(01):61-73. DOI10.4236/ojss.2018.81005
Chisanga CB, Phiri E and Chinene. VRN. 2017. Climate change impact on maize (Zea mays L.) yield using crop simulation and statistical downscaling models: A review. Journal of Scientific Research and Essays 12(18):167-187. DOI10.5897/SRE2017.6521.
Chisanga CB, Phiri E and Chinene. V.R.N. 2017. Trends of Extreme Events in Precipitation and Temperature during the 1963-2012 Period at Mt Makulu, Zambia. Journal of Scientific Research and Reports 15(4):1-1934815. DOI10.9734/JSRR/2017/34815.
Muleya EM, Phiri E and Chabala LM. 2017. Soil Water Storage under Selected Maize Varieties (Zea mays L.) for Rain-fed Conditions in Zambia. International Journal of Plant and Soil Science 15(2) (1-10):1-1032139. DOI10.9734/IJPSS/2017/32139
Chisanga CB, Phiri E and Chinene. V.R.N. 2017. Statistical Bias Correction of Fifth Coupled Model Inter-comparison Project Data from the CGIAR Research Program on Climate Change, Agriculture and Food Security-Climate Portal for Mount Makulu, Zambia. Current Journal of Applied Science and Technology 21(4):1-16 33531. DOI10.9734/BJAST/2017/33531.
Muleya EM, Phiri E, Chabala LM, Sichingabula H. 2016. Water Use Efficiency of Maize Varieties under Rain-Fed Conditions in Zambia. Sustainable Agriculture Research 6(1):1DOI10.5539/sar. v6n1p1