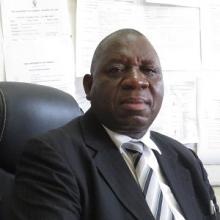 Department of Private Law
Biography
Academic Qualifications:
MA, PhD, Warwick, 
LLM, Wisconsin Madison, 
LLB, UNZA, AHCZ
Dr. Ernest Muketoi Beele is a Senior Lecturer in the School.  He joined the University as a senior lecturer in 2013. He teaches Commercial subjects, including Labour Law. He obtained his Bachelor of Laws (LLB) from the University of Zambia, Masters of Law (LLM) from the University of Wisconsin-Madison, MA in Industrial Relations and PhD from the University of Warwick. Dr. Beele is an advocate of the High Court of Zambia. He has previously held positions at the Copperbelt and Mulungushi Universities in Zambia. He has had 17 years of University administration working as Dean of Students and Deputy Vice Chancellor. Outside the University, he has been a member of the Board of Governors of Mindolo Ecumenical Foundation, Mwanakatwe Constitutional Review Commission, the Zambia Law Development Commission, Zambia National Commission for UNESCO and the Board of the Zambia National Broadcasting Corporation. He is currently a member of the Legal and Justice Sector Reform Commission and the Accreditation Committee of the Zambia Institute for Advanced Legal Education. He is also the Chairperson of the Board of directors of ZSIC life Limited and the University of Barotseland. 
Research Interests
Labour law and industrial relations,
pensions and social security.     
 
Publications
Publications
Book    
Ernest. M. Beele, (with Chanda Chungu) Labour Law in Zambia: An Introduction, JUTA Book Series, 2018. 
Book chapters
Ernest. M. Beele, Zambia: Comparative African Labour Law Matrix, second (2nd) Edition, 2018
Ernest. M. Beele (with Judith M. Chulu), Land Law and Policy in Zambia After Kaunda, in John Lungu and Mulemwa Akombelwa (Ed) Land Policy and Reform: The Moses Kaunda Memorial Lectures, ICARES Proceedings No2. (2001) Mission Press, Ndola.
Articles 
Ernest. M. Beele, A note on the Rule of Law, Journal of the Institute of Public Policy Analysis, May 2015.
Ernest. M. Beele, Strikes and Liberalization Policies in Zambia (1992) Profit magazine, Lusaka. 
Ernest. M. Beele, The Bolting Workers – Some Scenarios of Statutory Instrument No: 6 of 1985 (1985) Zambia Journal of Business, Volume 4 No. 1 and 2 pp 27 – 29. 
Ernest. M. Beele, The Jurisdiction of the Industrial Relations Court in dismissals; A Meandering Path (1984) Zambia Journal of Business, Kitwe. 
Ernest. M. Beele (With Enock Simaluwani), Unzasu and the Constitution (1979), Journal of the University of Zambia Law Association, Lusaka pp 1- 7.
Ernest. M. Beele, The Concept of Motive in Administrative Law (1979) Journal of the University of Zambia Law Association, Lusaka pp 40 – 44. 
Unpublished Works
Ernest. M.  Beele Labour Law Module Zambia Open University 2007
The State, Law, and Workers' Participation Policies in Zambia 1969 – 1989, 1992, a thesis submitted for the award of the Degree of Doctor of Philosophy in Law, University of Warwick, Coventry, UK
State Trade Unions and Labour Policies: Theoretical Issues and the Evidence from Zambia, 1987 
A thesis submitted in partial fulfillment of the requirements for the award of the Degree of Master of Arts in Industrial Relations, Department of Industrial Relations, School of Industrial and Business Studies, University of Warwick, UK.
 
Towards Effective Workers Participation in Zambia, 1983
A thesis submitted in partial fulfillment of the requirements for the award of the Degree of Master of Laws (LLM), University of Wisconsin – Madison, USA
Conference Presentations 
Ernest. M. Beele, Corporate Governance in State Owned Enterprises, Panel Discussions presentation. State owned Enterprises Chief Inspector Officer's Conference, Avani, Livingstone, 28th October, 2017.
Ernest. M. Beele, The Regulation of Wages and Conditions of Service in Zambia, Paper presented at the first (1st) African Labour Law Conference, Sun City, South Africa, September 7, 2017.
Challenges for the Implementation of Economic, Social and Cultural Rights in Civil and Post Conflict Situations – The Case for the Dag Hammarskjold Chair in Zambia 
A paper presented at the 3rd Encounter of UNESCO Chair Holders and Directors of Research Institutes working on Human Rights, Democracy and a Cultural of Peace, Hotel Intercontinental, Libreville, Gabon 21-28 February 2005.
An Overview of Labour Legislation in Zambia. A paper presented at a Seminar for Labour Inspection Training in Zambia organized under the auspices of the International Labour Organization (SLASA Project), Fairmount Hotel, Livingstone, Zambia, 1 – 5 March 2004.
The Legal Framework for Collective Bargaining in Zambia  
Paper presented at a Seminar organized under the auspices of the International Labour Organization on Collective Bargaining and Negotiations: Successful Approaches and Successful Skills, National College for Management and Development Studies, Kabwe, 11th August 2003.
The 1999 Universities Bill – A New or Old Agenda. Public Lecture, Copperbelt University, Kitwe 1999
Hooliganism and the Law in Zambia, Paper presented at a Workshop on How to Curb Student Hooliganism in Institutions of Higher Learning in Zambia, 17th – 21st August 1998, National College for Management and Development Studies, Kabwe
Labour Law and Industrial Relations in Zambia: Recent Developments and Prospects, Paper presented at the 1st Regional Workshop on Labour law and Industrial Relations in Southern Africa, Marine Parade Holiday Inn, 13th – 15th July 1993, Durban, South Africa.
Trade Unions and Private Economy in Zambia: Challenges in the Industrial Relations System, Paper presented at the Zambia Congress of Trade Unions Workshop in Industrial Relations, 12th – 16th October 1992, Fairmount Hotel, Livingstone.
Labour Laws and the Management Process: The Case for Appreciation, Paper presented to a Management Development Workshop organized by Vision Consult Limited, 28 September – 2nd October 1992 Lake Kariba Inns, Siavonga.
University Administration and the University Act 1992 Public lecture, Copperbelt University, 18th September, 1992 Kitwe.
New Tends in the Management of Industrial Disputes, Paper presented at the Professor's World Peace Academy of Zambia Workshop in Industrial Relations, 15 – 17 May 1992 Musi-O-Tunya Hotel, Livingstone. 
The Rights of a Seller and a Consumer in a Market Economy, Paper presented at a Seminar organized by the Institute of Marketing, 6th March, Savoy Hotel, Ndola. 1992
On Labour Policies and the Control of Trade Unions in the Third World: Some Lessons from the Legislative Policies of Zambia and Singapore, 1991, Law School, University of Warwick, UK
Ongoing Research
Social Security Law and Policy in Zambia
Regulation of Cooperative Business
Contact Details
ernest.beele@unza.zm