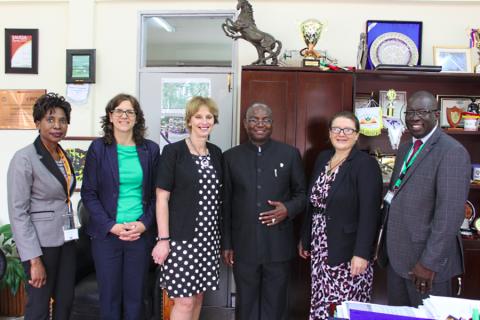 UNZA Vice-Chancellor, Prof. Luke Evuta Mumba, (3rd from right) pose for a group photo with the team from Cardiff University when they paid a courtesy call on him on Monday, 28th May 2018. The team consists of Cardiff University School of Psychology, Public Health, Prof. Jacky Boivin (2nd left), Cardiff University School of Healthcare Sciences, Nursing Sciences, Dr. Judith Carrier (3rd from left) and Cardiff University, Administrative Assistant/Phoenix Project Manager, Ms Nicola Pulman (2nd right). They are accompanied by UNZA School of Medicine Senior Lecturer, Prof. Fastone Goma (right) and Assistant Dean, Undergraduate, School of Nursing Sciences, Dr. Patricia Mukwato (left).
The team is visiting UNZA in line with the on-going ERASMUS Project in collaboration with Cardiff University under Prof Judith Hall, PI.
This is a mobility project - facilitating movement of Lecturers between the two institutions to form Research teams that can apply for grants jointly and also for students to learn in a sister institution.
The first team to travel was from UNZA comprising:
Prof. James Chipeta - School of Medicine,
Dr. Joseph Mumba Zulu - Public Health and
Dr. Patricia Katowa-Mukwato - Nursing Sciences;
The UNZA team presented a very positive report which resulted in a small grant to be administered by Dr Patricia Mukwato from UNZA and Cardiff university. Currently, there are six students from UNZA to Cardiff University - three (3) Medicine, two (2) Nursing Sciences and one (1) Health Sciences (Pharmacy). They will be there for 12 weeks.
Now the team from Cardiff University are at UNZA in response to Prof. James Chipeta's visit. They are:
Ms. Nicola Pulman - Administrative Assistant/Project manager
Prof. Jacky Boivin - Public Health
Dr. Judith Carrier- Nursing Sciences