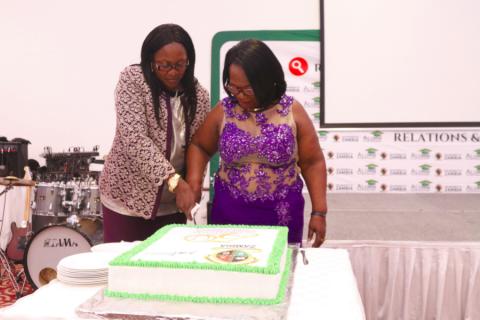 Minister of Higher Education, Hon. Prof. Nkandu Luo, MP (right) and Chairperson of UNZA Council Caretaker Committee, Ms Namuchana Musiwa (left) cut the cake to mark the Golden Jubilee of UNZA School of Medicine on Saturday, 21st July 2018 at Pamodzi Hotel in Lusaka.
The Golden Jubilee celebrations highlighted the successes scored and challenges faced by UNZA School of Medicines since its inception in 1968. The resilience of the school can be seen in its 50 years of excellence, service and training of health care professionals who have been diligently serving the people of Zambia.
At the same function, Minister of Higher Education, Hon. Prof. Nkandu Luo, MP, announced the re-arrangement of UNZA into six (6) University Colleges which will be managed by principals by early 2019.
Meanwhile, UNZA Vice-Chancellor, Prof. Luke Mumba, said that the challenges of the University could be addressed through concerted efforts from all stakeholders and appealed to all alumni of the institution to contribute to its operations and infrastructure development projects. Prof. Mumba announced that the Friends of UNZA, based in the U.S.A., donated a 60-seater bus to School of Public Health to celebrate the Golden Jubilee and assist the school in its operations.