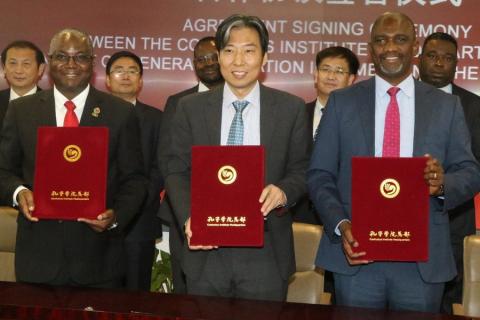 The Government of the Republic of Zambia has entered into an agreement with the Confucius Institute to officially introduce the Chinese language as a taught and examinable subject at the junior and senior secondary school level.
An agreement that will now see the curriculum review finalized leading to the first official Chinese language examinations to be administered under the Examinations Council of Zambia officially conducted in 2020 was signed on behalf of Government by the Permanent Secretary Ministry of Higher Education Mr Mabvuto Sakala on 7th May 2019 at the Confucius Institute Headquarters in Hanban, China.
The Permanent Secretary alluded to the historic journey began in 2013 by the introduction of Chinese language in the Zambia Education Curriculum Framework. He noted that in 2014, the Ministry of General Education started implementing the teaching of Chinese as a foreign language in 10 pilot schools which were carefully identified and selected in each province. He said, 'The introduction of the Chinese language in the Zambian education system will not only strengthen the current bilateral relationship but will also increase bilateral exchanges between the two countries'.
Speaking at the same event, University of Zambia Vice Chancellor – Professor Luke Mumba expressed happiness that the tripartite involving the Ministry of General Education, the Confucius Institute Headquarters and the University of Zambia could finally sign the memorandum of understanding to complete the curriculum review process for Junior and senior Secondary Schools in Zambia.
Professor Mumba explained that the approved curriculum would henceforth standardize both the teaching of the language countrywide and the integration of assessment into the national examination system.
The Deputy Director General of the Confucius Institute Mr Yu Yunfeng re-affirmed the commitment by the Confucius Institute to support capacity building with more local teachers be trained to successfully deliver the Chinese language in Zambia.