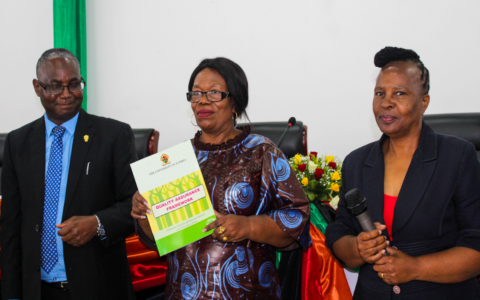 Minister of Higher Education, Prof. Nkandu Luo, has commended the University of Zambia (UNZA) for launching the Quality Assurance Framework document.
Speaking during the launch of the document, Prof Luo said the initiative taken by UNZA to develop the Quality Assurance Framework would help to demystify the concerns people have on the quality of higher education at the institution.
The minister noted that most higher learning institutions had weak performance audits and assurance checks making it difficult to evaluate the quality of programmes being offered.
She said it was her wish that all higher education institutions in Zambia would emulate what UNZA had done adding that the development of the Quality Assurance Framework in each institution would help to assess the quality, functionality as well as the accreditation of study programmes.
   She implored the University of Zambia management to remain firm and be on top of things if the implementation of Quality Assurance Framework, launched, was to be realized.
"This will ultimately help the University retain its old reputation, which is currently under threat through competition from other emerging universities. I therefore, wish to thank UNZA Management and specifically the team that worked tirelessly to produce this document. I hope this Quality Assurance Framework will spur lecturers to think critically and apply their intelligence in pursuance of quality education," she said.
Prof Luo said she was hopeful that the launched document would help to transform not only the academic side of things but also the functionality of the University operation.
 And UNZA Vice-Chancellor Prof. Luke Mumba said Quality Assurance Framework had been developed to serve as a guide in linking the many operational and developmental processes in order for the University to realise its vision and mission statements which are to be 'An Eminent University driven
by Pursuit of Knowledge, Innovation and Social Responsiveness" and "To provide relevant, innovative and demand-driven higher education for socio-economic development", respectively.
"It is not long ago that the term 'University' was synonymous with the University of Zambia' in this Country. This has now changed as more players have come on board to provide higher education. Competition in providing higher education is now a reality. This, therefore, calls for a paradigm shift in the manner the University of Zambia conducts its business," he said.
Prof. Mumba said for a couple of years there has been an outcry about the declining quality in higher education in Zambia. "This outcry has been voiced by different stakeholders including employers of our graduates and our own students," he said.
He said at the national level, the establishment of the Higher Education Authority (HEA) was an important milestone in response to this outcry.  Prof Mumba said the expectation was that the HEA would work closely with key stakeholders in ensuring that there was an effective regulatory and quality assurance system for higher education in the country. He said that UNZA had appreciated this development and was working very closely with the HEA to ensure that the objectives of its establishment were realized.
Prof Mumba said UNZA considered that an enhanced regulatory and quality assurance system at the national level would act as:
-a catalyst to the Country's socio-economic development and growth and will in turn positively impact on development indicators such as labour productivity, employment levels, incoming earning potential, poverty reduction and life expectancy;
-an attraction for international students from within and outside the Southern Africa Development Committee (SADC) region to study in Zambia as a leading destination for academic excellence; and
-The springboard for improving the standing of Zambian higher education institutions on a global level, typified by the various world university rankings.
"On its part, UNZA has developed this Framework as a means for providing evidence of quality in its operations.  Before embarking on a path of improvement in quality, the University must know where it stands and what its strengths and weaknesses are. Only when the problems are identified using facts and figures in a very clear way, can a lasting solution be found," he said
Prof Mumba said trying to solve problems on the basis of perceptions alone was not good enough. He said it was through the use of the guidelines and tools contained in the Framework that the University would be able to judge its functioning in an objective, unbiased and well-informed manner.
"In Science Policy, we call this as evidence-based policy making or evidence-based decision making which requires empirical data. I hope that the use of this framework will lead us to achieve the high standards we have set for ourselves and to be an active and effective player in the global knowledge economy,"
he said.