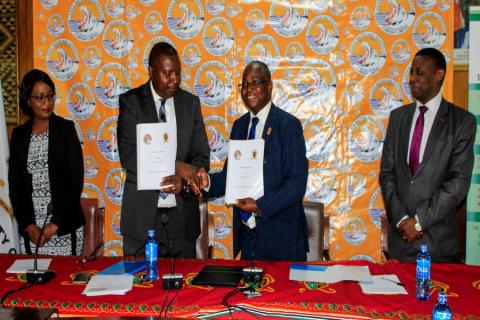 The University of Zambia (UNZA) through the School of Engineering has signed a memorandum of understanding with Lusaka Water and Sewerage Company (LWSC) to work together on research that focuses on water supply and sanitation. Speaking during the signing ceremony UNZA Vice-Chancellor Professor Luke Mumba said the University of Zambia was delighted to join hands with Lusaka Water and Sewerage Company in order to supply the water and sanitation services to the people of Lusaka Province in a more effective and efficient manner. "We are aware of the significance of water supply and sanitation services to Zambian citizenry. Water supply and sanitation are at the centre of national development, they ensure public health as well as personal hygiene to our people," he said.
Prof Mumba added that UNZA in line with its vision "To be an eminent university driven by the pursuit of knowledge, innovation and social responsiveness" was ready to share the challenges and find solutions aimed at enhancing effectiveness and efficiencies in the delivery of water and sewerage services by the utility company. He further said the university through the five departments under the School of Engineering namely; Agricultural Engineering, Civil and Environmental Engineering, Electrical and Electronic Engineering, Geomatic Engineering, and Mechanical Engineering had the ability, knowledge and skills to work with LWSC to address various challenges.
And LWSC Managing Director Engineer Jonathan Kampata said the utility company was happy to formerly work with UNZA through the signing of the MoU. Eng Kampata noted that although the collaboration between the two institutions existed for many years through training, consultancy, research and technical assistance; signing the MoU was important in order to enhance the partnership. Eng Kampata said the utility company decided to work with UNZA because of its reputation and high profiled track record in research and consultancy. "I am aware that there is no challenge that research and an academic institution like UNZA can fail to solve," he said.
Eng Kampanta added that LWSC was looking at having more homegrown, sustainable and cost-effective solutions to be developed through this partnership. "We are confident that the pool of knowledge at UNZA will be an invaluable resource to our company in our quest for improved service delivery to all. We can only achieve this by undertaking joint research in areas of common interest and sharing best practices and developing innovations," he said.
Eng Kampata said UNZA and LWSC had unique intrinsic knowledge and skills in the areas of water supply and sanitation, which could be mutually exchanged for the benefit of the two institutions. He said the signed MoU was seeking to increase the capacity of LWSC to develop and implement innovative and effective strategies for delivery and management of water supply and sanitation services through joint research, sharing of knowledge and skills. "A relatively new area of interest we are entering into is the onsite sanitation/non-sewered sanitation. Solutions on how best to manage this are urgently needed," he said.
He further said LWSC expected that the cooperation will encourage applied linkages with university students and that it will help to generate students' interest in the utility services and provide possible recruitment opportunities.
Meanwhile, the Dean School of Engineer Dr Michael Mulenga thanked LWSC for choosing to work with UNZA particularly the School of Engineering. Dr Mulenga noted that the collaboration efforts were important to facilitate the growth of engineering education and practices in Zambia. He said the signing of the MoU consolidated the collaboration and partnership for the mutual benefit of the school and the industry. He revealed that LWSC supports the School of Engineering in several ways among others conducting industrial training for students, and sitting on the School of Engineering Advisory Board, which draws membership from government entities, industry and the professional institutions.
"Through this MoU, we believe as a School of Engineering that LWSC with its extensive experience in the areas of maintenance of water supply and sanitation infrastructure, will assist us in the rehabilitation and recapitalisation of our laboratory infrastructure, especially in the area of hydraulic and water resources engineering,'' he said.
The signed MoU will cover the following areas of cooperation:
-Energy Management
-Reduction of non-revenue water
-Water conservation (Rainwater harvesting, Demand management etc)
-Water Quality management
-Optimisation of water supply operations
-Optimisation of sewerage system
-Sustainable sanitation for low income communities
-Water safety
-Quality and Environmental Management System
-Information and Communication Technology
-Project Management
-Monitoring and Evaluation