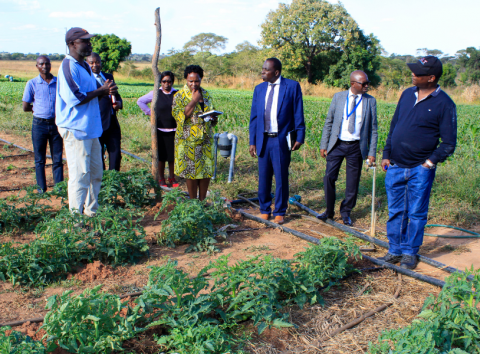 The University of Zambia (UNZA) Management recently conducted a familiarisation tour at Liempe Farm and has pledged to recapitalise the farm as well as mobilise funds to finance the already existing projects.
Speaking during the tour UNZA Vice-Chancellor Professor Luke Mumba observed that Liempe farm was a sleeping giant which needed recapitalisation if the university was to realise the maximum potential out of it. Prof Mumba was however impressed with the manner in which the farm was being managed despite the unavailability of financial resources.
"This is a very good start, all we need in terms of  moving this farm forward is to recapitalise it, the potential is very huge but we are underutilising it because we have not invested in the farm, so as management we will be seriously looking at how to revamp this farm so that we can go  to a commercial level as opposed to what is happening now," he said.
And UNZA Deputy Vice-Chancellor, Prof. Enala Tembo Mwase added that the vast land at Liempe had the potential to host multiple business facilities besides farming which could bring in revenue to the university.  She said one project that could be set up was the construction of a lodge. Prof Mwase observed that the plan of putting up a lodge with conferencing facilities at Liempe would reduce the cost of holding workshops outside the campus.
"We have vast land if properly planned a lot of business facilities can be put here and the place is close to town. I know we have been talking about the Linda property but I think we have enough space for the lodge, the place is serene and good enough," she said.
Meanwhile, Liempe Farm Manager, Mr Alfred Mboozi was happy that management was planning to recapitalise the farm and requested that as the plans were being mooted more consideration should be put in engaging trained personnel as well as buying new farm machinery.
Mr Mboozi said as it was rightly observed by the Vice Chancellor the farm was being underutilised, however, if well funded with adequate personnel and equipment it had the potential to do better than what was being realised.
"For instance, by December this year, our fish farming is expected to expand from 2 fish ponds to 10, piggery section to offload porkers to the market on weekly basis and we will increase poultry production from 4000 birds to 10 000 plus on a monthly basis. What we just need is the support to expand on what we have," he said.