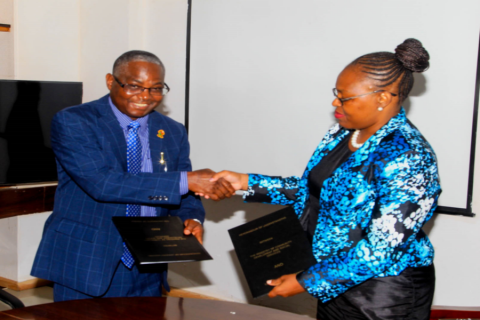 The University of Zambia (UNZA) through the School of Humanities and Social Sciences has signed a Memorandum of Understanding with the Ministry of Community Development and Social Services (MCDSS) aimed at offering training programmes intended to develop critical skills in the staff at the Ministry and the country at large.
Speaking at the signing ceremony UNZA Vice-Chancellor Professor Luke Mumba said the MoU was a clear demonstration of ambition and determination as an institution to become a beacon of institutional innovation and progress through evidence-based training, research and public service.
Prof Mumba said the University of Zambia was keen to partner with the public institutions to enhance knowledge, skills, and institutional development. "In this partnership, UNZA will be working with you to achieve your mandate through a series of innovative and transformational processes in research, teaching and learning, among others, to train highly qualified personnel with unquestionable competencies in planning, social policy, social welfare, community development, social protection, child protection, case management, social work, monitoring and evaluation, and social service provision, among others", he said.
Prof. Luke Mumba added that knowledge generation was not a preserve of universities only but includes industries and other organisations. "Therefore, it is important that the University of Zambia establishes linkages with institutions like the Ministry of Community Development and Social Services if we are to develop,'' he said.
Prof Mumba said in line with the UNZA's Strategic Plan 2018-2022, the University was seeking partnerships with several institutions to share ideas and innovations in teaching and research, provide platforms for student and staff exchange as well as serve as practical training grounds for students for the mutual benefit of the industry and the University.
Prof. Luke Mumba revealed that following the signing of the MoU with the ministry, and as a way of actualising the areas of cooperation, UNZA would be launching training programmes for staff in the MCDSS through Kitwe and Monze Community Development Staff Training Colleges. "We are confident that through such collaboration with our partners, we will continue to nurture high-class professional graduates who can bring about the needed transformation in our country,'' he said.
And MCDSS Permeant Secretary Mrs Pamela Kabamba thanked the University of Zambia for accepting to partner with the ministry. She noted with regret that most graduates from Monze and Kitwe Community Development Staff Training Colleges had opted to pursue other disciplines due to lack of advanced programmes in the field of community development. "This has necessitated the need to collaborate with the University of Zambia as a way of improving and expanding the programs," she said.
Meanwhile, the Principal Monze Community Development Staff Training College, Mr Phiri in his vote of thanks said that the partnership would offer opportunities for many people to improve on their education as well as broaden knowledge in social related matters.