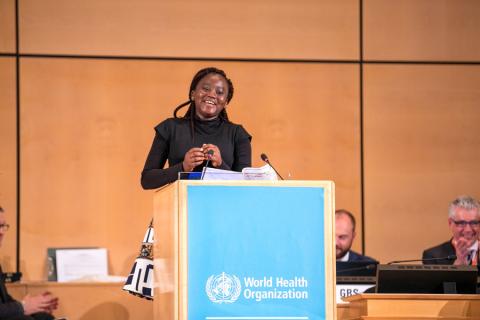 Born on the 3rd of May 2001, Natasha Wang Chibesa Mwansa is a sensational 18 year old University of Zambia student who recently made global headlines owing to a speech she delivered during a conference in Canada, where she aroused an audience of over 8000 people from all over the world and got standing ovations from three different heads of states including President Uhuru Kenyatta of Kenya and Justin Trudeau of Canada.

Just before this event, Natasha was awarded by the World Health Organisation in recognition of her work towards adolescent health and wellbeing with a Global World Health Leaders award after giving her call to action, from a young people's view, to world health leaders during the opening of the 72nd World Health Assembly, which grabbed a lot of global attention too.
She stands as the youngest recipient worldwide and only Sub-Saharan African recipient of the award. She is also the youngest person to address the World Health Assembly.

Natasha often responds to the question, "who is Natasha?" by stating that she has no definition for Natasha because "I wouldn't want to limit Natasha to a description of words, she is beyond that." Often, she views herself as unconventional, novel, radical, enigmatic and extremely passionate about her work. "Passion alone does not get the job done but passion definitely makes the work worth it when complete, passion triggers an outcry and a burden to act."

At the age of 12, Natasha got introduced to the world of advocacy and activism through an organisation called the Media Network on Child Rights and Development (MNCRD) where she started out as a Child rights advocate. Often, her advocacy work has to do with the media and she believes the media has so much power to influence and create the sort of impact that she envisions. It's no wonder why she is a Media and Communications student at the University of Zambia.

Her journey, however, did not end there. After continued engagements, exposure and advocacy work, Natasha found herself on a National Reality show called Junior President where she emerged as the runner up. "Despite not winning the title of Junior President hurting and devastating me so bad," says Natasha, "I did not take it as a loss. The experience made me realise just how much work needs to be done with girls and young people and it is from both interactions and experience I had on the show with different communities that I decided I would stand still and be a voice to the voiceless. I will represent young people to the best of my abilities. I will push for our needs to be met and until people realise we are capable and powerful enough to take charge of our lives, I will not be quiet."

After making that decision, she worked and partnered with various organisations such as the United Nations Population Fund, where she is one of their youth ambassadors to date. The African Union Commission, where she seats on the Youth Advisory Board as the youngest member. The World Health Organisation, where she is a youth representative on health and development. Women Deliver, where she is the youngest member of the Young Leaders class of 2018 to 2021. Safaids, where she is a Social Accountability Monitor and Sexual Reproductive Health Champion. She also works with the Ministry of Education on Education projects and the Ministries of health and Home affairs on other projects to do with women spearheaded by the Canadian Government.

Natasha plans on starting an organisation soon and her hope is to create impact not just at the national level, but continental and global too. She is very passionate about the health and development of girls, young people and the community at large and her goal is to build as much capacity in individuals for them to not be taken advantage of but instead given what they demand and have granted what they need and want. "I see too much young energy going to waste and there is way too much untapped potential, it hurts me. I want to be able to be part of the solution by using my abilities, knowledge and skills to equip, educate, enhance the livelihoods and bring back that hope to the hopeless for a better and developed world, and this will only be achieved if we target the people in whose hands the fate of the world lies, that is girls and young people."