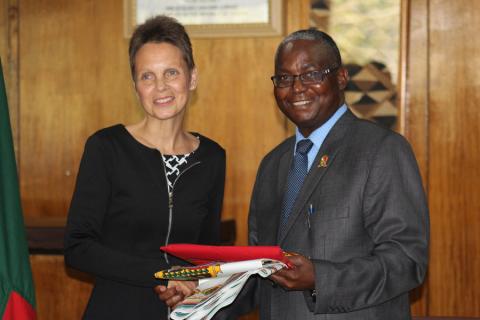 Finish Ambassador to Zambia, Her Excellency Ms Pijro Suomela-Chowdhury, has praised the University of Zambia (UNZA) for its outstanding education aptitude and has called for strengthened collaboration between UNZA and Finish universities.
Speaking when she paid a courtesy call on UNZA Vice-Chancellor, Ms Chowdhury said Finland was elated to collaborate with UNZA in various fields of study as well as students and lecturers exchange programmes.
Ambassador Chowdhury said her visit to UNZA was to strengthen the existing cooperations with the universities in Finland as well as to pursue new collaborations in the training fields such as agricultural technology, entrepreneurship, mining and social protection. The Ambassador commended UNZA's long-standing relationship with universities in Finland and pledged to support any new collaborations UNZA might have with universities in that country.
Ambassador Chowdhury stressed the need for continued cooperation as well as the significance of supporting each other in promoting quality education standards through exchange programmes. She also called for the establishment of an alumni get-together in Zambia for staff and students who had studied in Finland.
In his welcome remarks, UNZA Vice-Chancellor, Prof Luke Mumba, thanked Finland for being an all-weather friend not only to UNZA but Zambia as a whole. Prof Mumba said UNZA recognised the role that Finland had played in supporting the Zambian education system through exchange programmes both at student and staff levels.
Prof Mumba further revealed that the relationship with Finish universities was the most active in terms of exchange programmes adding that since the first Memorandum of Understanding was signed between UNZA and University of Jyvaskyla of Finland in 2012 several others have been signed with the University of Helsinki, the University of Savonia and University of Tampere.
 Prof Mumba said out of the signed MoUs, various exchange programmes have been conducted involving students, faculty members as well as agreements to co-supervise the doctoral research of two lecturers in Psychology Department in the  School of Humanities and Social Sciences.
He further added that the School of Agricultural Sciences recently visited Savonia University to benchmark how that University had integrated entrepreneurship in its programmes. He revealed that arising from the visit by UNZA to Finland, two (2) faculty staff from Savonia University visited  UNZA and conducted a workshop whose purpose was to review the curriculum in the School of Agricultural Sciences so as to infuse a strong component of entrepreneurship. 
Prof Mumba said one of UNZA's strategic objectives was to increase international cooperations with various universities as well as foreign students enrolment ratios to at least 10 per cent. He said such partnerships were important for the university's visibility at the international level.
Prof Mumba further commended Finland for its strength in education background as well as research and he has appealed for the continued collaboration between the two countries.