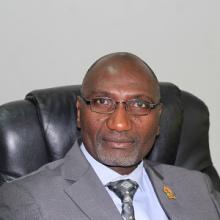 Quality Assurance (QA)
Biography
Academic Qualifications:
BEng, University of Zambia
MSc, Cranfield University
PhD, University of Newcastle-upon-Tyne.
Curriculum development
Dr. Lusambo has been a leading figure in the development of various master's programmes in engineering at the University of Zambia.  Among the notable ones are: Master of Engineering in Agricultural Engineering; Master of Engineering in Renewable Energy Engineering; Master of Engineering in Project Management and Master of Engineering in Construction Management.
University Infrastructure Development
Dr. Lusambo has been involved in number of university developmental projects.  Notable among these are the demarcation of university land, preparation of the master plan for university infrastructure development, construction of students' hostels, the Confucius Institute and construction of business and commercial developments.
Professional Experience
Dr. Lusambo worked as a Structural Engineer at Architrave Limited for one year soon after graduating with a Bachelor of Engineering degree in Civil Engineering from the University of Zambia in 1987. He undertook structural engineering design and detailing and site supervision of various residential blocks of flats, office blocks, factories, water tanks and miscellaneous structures and works.
In later years, Dr Lusambo has undertaken design and site supervision of a number of works including a structural steel footbridge, reinforced concrete footbridges, road arches, structural steel false roofs, office blocks, churches, warehouses, processing factories and numerous residential properties.
Professional Affiliations
• Member of the Engineering Institute of Zambia
• Registered Professional Engineer