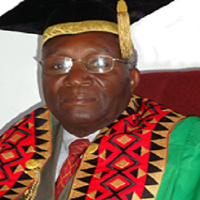 Council
Biography
Dr. Jacob M. Mwanza is a Chairman at Investrust Bank Plc, a Chairman at Pangaea Securities Ltd., a Chancellor at University of Zambia and a Non-Executive Chairman at Zambeef Products Plc.

He is on the Board of Directors at Celpay Zambia Ltd., David Shepherd Wildlife Fund, Intercontinental Hotels & Resorts, Konkola Resources Plc, Lusaka Stock Exchange and Stanbic Bank Botswana Ltd. Dr. Mwanza was previously employed as a Governor by Bank of Zambia and a Secretary by Zambia Ministry of Finance.

He also served on the board at City Bank & Trust (Shreveport, Louisiana), Kafue National Park and The David Shepherd Wildlife Foundation.

He received his graduate degree from the University of Münster and a doctorate degree from Cornell University.