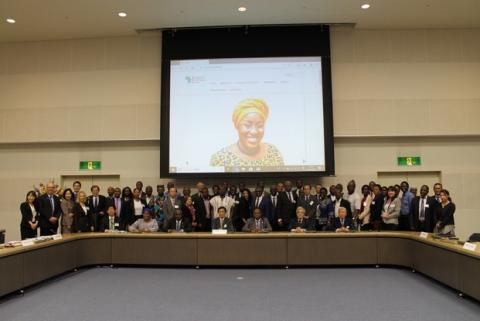 University of Zambia (UNZA) Vice-Chancellor, Prof. Luke Evuta Mumba, has said that among the 17 Sustainable Development Goals, Education is the single most powerful one which if achieved has a positive multiplier effect in the achievement of the other goals.
Speaking at the International Symposium on Dialogue with African Universities on Capacity Building for Africa's Sustainable Development in Tokyo Japan, Prof Mumba said, "Universities have an important role to play in supporting Africa's sustainable development. Beyond academic training, we need to promote technical and vocational skills. We need to build capacity for sustainable environmental management including mining."
Further, Prof Mumba said that sustainable development must start from community development.
"We need to partner with the community, the private sector and government to ensure heavy investment in education infrastructure including research. Our role as universities in Africa will not be of impact on Sustainable Development Goal No. 4 unless we can work together," Prof. Mumba said.
The International Symposium has been organised by the United Nations University – Institute for the Advanced Studies of Sustainability and the African Development Bank to stimulate dialogue amongst various stakeholders on the role of universities in promoting Africa's sustainable development. The week long symposium is reflecting on and reviewing the performance of the Education for Sustainable Development in Africa (ESDA) programme with an emphasis on African Capacity building for sustainable development, training of youth entrepreneurs for Africa's sustainable industrialisation, young researcher's initiatives for Africa's sustainable development and the Africa Youth entrepreneurship programme.
The University of Zambia is a strategic partner of the Education for Sustainable Development in Africa (ESDA) Programme. Through this programme, the ESDA project today has developed and implemented field oriented master's degree programmes to train leaders for sustainable development in Africa.
The University of Zambia – School of Mines is host to the ESDA Master of Mineral Resources (MMR) programme and has been working in direct collaboration with the University of Cape Town since 2014 in jointly teaching the course. The ESDA MMR course is directly involved in training postgraduate students in sustainability in mining. The ESDA programme also involves six other African Universities, namely Nairobi, Kenyatta in Kenya, Ibadan in Nigeria, Kwame Nkurumah and University of the North in Ghana, and University of Ghana.