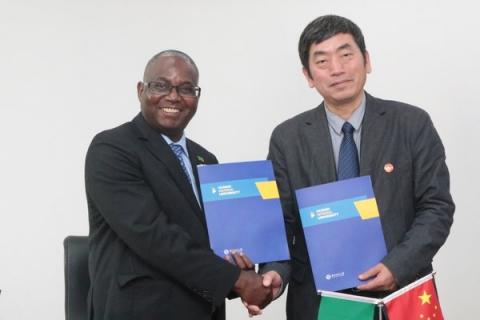 The University of Zambia (UNZA) has entered into a strategic alliance with Hunan Normal University (HUNNU) to support postgraduate training in Chinese language under the Confucius Institute.
This Memorandum of Agreement (MoA) between the two Universities was entered into on 29th November 2018 at HUNNU in Changsha – Hunan Province, China.
Through this agreement, HUNNU will design the teaching plan Chinese language postgraduate programme and facilitate the Chinese Government Scholarships to facilitate postgraduate training of students from UNZA. It is expected that the first cohort of six students from UNZA will begin their studies under this agreement in September 2019.
Speaking on the occasion of the signing ceremony, UNZA Vice-Chancellor, Prof. Luke Mumba said, "This specific agreement would go a long way in meeting the demand for postgraduate level trained Chinese teachers at UNZA and at national level".
HUNNU is the leading provincial university in Hunan Province. The said University was founded in 1938 and today has 36,000 students supported by 1,800 staff. The University has over 1,000 international students from 172 international exchange programmes and partnerships from 41 countries. HUNNU currently runs three Confucius Institutes in Russia, the United States of America and South Korea.
By Kennedy Msusa, Office of the Vice-Chancellor from China.