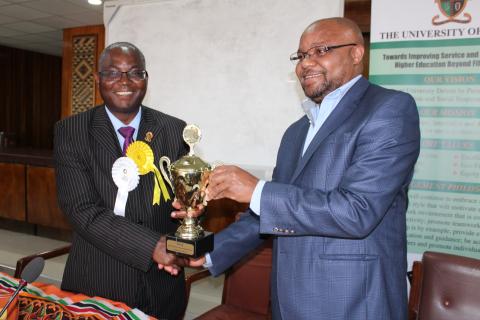 The University of Zambia (UNZA) Vice-Chancellor, Prof. Luke Evuta Mumba, received the trophies won by the UNZA International Trade Fair & Agricultural and Commercial Show Committee on Monday, 3 September 2018.
During the Zambia International Trade Fair in Ndola which was held from 27 June 2018 to 3 July 2018, UNZA came second to Industrial Training Centre. At the Agricultural and Commercial Show in Lusaka which was held from 1 - 6 August 2018, Team UNZA won the overall award in the Best Educational Institution Exhibit category while emerging third in the Commercial category.
UNZA has won the overall award at the Agricultural and Commercial Show for three years in a row and has consistently won an award in the commercial category for four years now.
And UNZA Student Debate Club presented their trophy they won during an inter-universities  debate competition organised by Programmes for Young People in Africa at Cavendish Medical Campus. UNZA students emerged winners of the overall prize out of eight (8) universities.