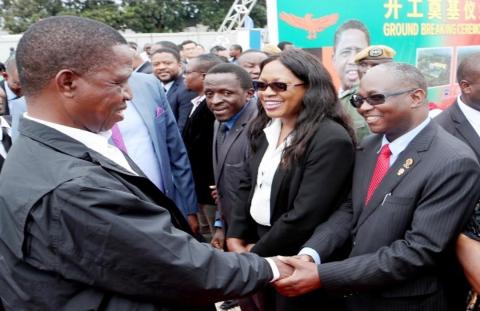 Government has handed over a Maize Processing and Milling Plant to the University of Zambia at its Liempe Farm in Chongwe district on Wednesday, 17 April 2019. The handover of the Maize Processing and Milling Plant was graced by His Excellence, President Edgar Chagwa Lungu.
President Lungu said the milling plant, once constructed, would also be a training facility for human resource who would be working in milling plants across the country and would increase efficiency of personnel working in the milling industry in Zambia.
This plant is one of the three plants to be constructed in the first phase which will have a combined maximum production capacity of 520 tonnes per day translating into 10,400 by 25 kilogramme bags of mealie meal per day and will also take approximately 21 months to become operational.
President Lungu said out of the 13 milling plants which will be constructed under the presidential milling plant initiative, six will be managed by the Zambia National Service.
The 13 milling plants will be constructed in Kaoma - Western Province, Monze and Mazabuka - Southern Province, Chipata - Eastern Province, Mpika - Muchinga Province, Solwezi – North-Western Province, Mumbwa and Kapiri Mposhi - Central Province, Luanshya and Kalulushi - Copperbelt Province, Mansa - Luapula Province, Chongwe - Lusaka Province and Kasama in Northern Province.