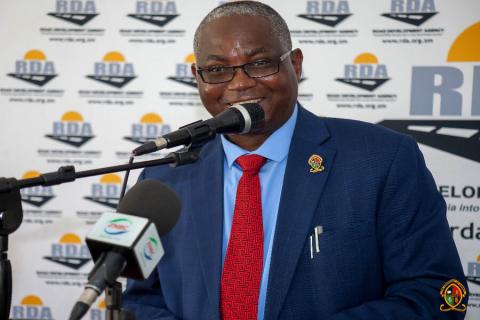 The University of Zambia (UNZA) has signed a Memorandum of Understanding (MoU) for Centre of Engaged Excellence (CoEE) with Road Development Agency (RDA) for the development of climate resilient infrastructure standards and codes for the transport sector in Zambia Friday, 21st May 2021. The MoU has been signed between RDA, Ministry of Transport and Communications (MTC), Road Transport and Safety Agency (RTSA), National Council for Construction (NCC), UNZA, Mulungushi University (MU), Copperbelt University (CBU) and the NTU International as a consultancy firm.
Speaking at the MoU signing ceremony, UNZA Vice-Chancellor, Prof. Luke Evuta Mumba, says that the University of Zambia recognizes the need to proactively address the challenges associated with climate change. Prof. Mumba says that the University has actively participated in the project undertaken by RDA with support from the NORDIC Development Fund through provision of academic staff who sat on peer review committees and participated in training of trainer's programmes. He further added that UNA was in a process of formulating Master's degree programmes in Transport and Pavement Engineering, in which climate proofing is a core module and other courses that specifically deal with climate change science.
And Road Development Agency Director and Chief Executive Officer, ENG George Manyele, says the signing of the MoU establishes the functional relationship between the RDA, MCT, NTU and the four leading Learning Institutions. Manyele says the MOU is certainly a next step on the road of transformation by establishing a functional relationship that will encourage optimal development and utilization of the Centre of Engaged Excellence capabilities in support of more climate resilient road infrastructure.