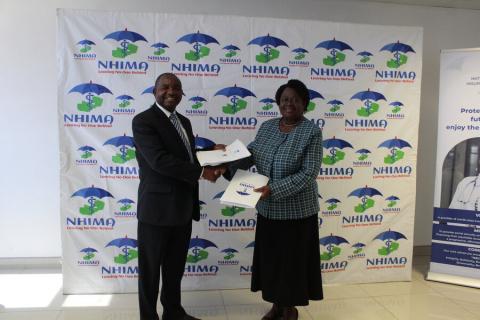 The University of Zambia (UNZA) has signed a Memorandum of Understanding with the National Health Insurance Management Authority (NHIMA) that will focus on conducting research and joint publications on health insurance and health financing, in line with Section 5 of the National Health Insurance Act.
Speaking during the signing ceremony NHIMA Director General, Mr. Michael Njapau said that he was delighted to partner with a leading research institution in the country like UNZA and that besides conducting joint research and publication in health insurance, NHIMA will also collaborate with UNZA on training in health financing, actuarial valuation and research methods for NHIMA staff and its stakeholders.
He said the other area of focus will be research dissemination for public education and awareness programmes on health insurance and the national health insurance scheme.
"Through this partnership, we are optimistic that we will establish a sustainable means of creating, developing, and distributing new knowledge to advance research, developing new talents, and new strategies for the benefit of all Zambians," he said.
Mr. Njapau said NHIMA believes in strong strategic partnerships for the successful implementation of the National Health Insurance Scheme which is a vehicle for achieving Universal Health Coverage.
"Cooperation agreements such as the MoU we are signing today are important in that they strengthen partnerships through the harmonisation of strength and synergies between institutions and create new opportunities for progress and solutions to society's problems," he said.
And UNZA Acting Vice Chancellor Prof Anne Sikwibele said the University of Zambia recognises the significance of establishing robust partnerships with key stakeholders, such as NHIMA.
She said UNZA was delighted to embark on this continuous collaborative relationship, focused on promoting education, training, research, and capability building for the mutual benefit of both institutions through the renowned research institute, the Institute of Economic and Social Research (INESOR), along with the School of Public Health, the School of Natural Sciences, specifically the Department of Mathematics and Statistics and the Department of Economics in the School of Humanities and Social Sciences.
Prof Sikwibele said with over 50 years of experience in research and training, the University of Zambia possesses the expertise necessary to jointly develop research proposals for long-term research grants.
"We are committed to supporting the implementation of research activities and providing input in the research process. Our collaboration will extend to data analysis and joint publications, solidifying our commitment to knowledge generation and dissemination," she said.
Prof Sikwibele further said the University of Zambia will leverage its international partnerships to generate research proposals that will contribute to the evidence base necessary for devising strategies to increase health insurance coverage, particularly among the underprivileged.
"Our aim is to contribute to ensuring the sustainability of the health insurance scheme and to address the needs of all segments of our society. By joining forces, we will strengthen our collective capacity to evaluate and measure the impact of health insurance initiatives, ultimately leading to improved healthcare delivery and outcomes for the Zambian population.
Prof Sikwibele thanked NHIMA for picking the University of Zambia among many existing universities in the country. "We are grateful for this recognition, however, with this development, I wish to call upon both parties to be committed to ensuring the implementation of the agreed areas of cooperation. If we work together, we will forge a path of collaboration, knowledge exchange, and evidence-based decision-making, which will help us to achieve our shared vision of being responsive to societal needs," she said.