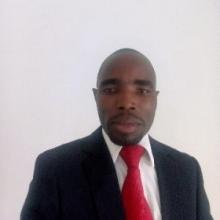 Department of Food Science and Nutrition
Head of Department
Lecturer
Biography
Academic Qualifications:
PhD (International Health, majoring in child nutrition)
MSc (Human Nutrition), 
BSc (Agriculture, specializing in Human Nutrition)
Dr. Chiza Kumwenda joined the department in October 2017 as a lecturer II. His research interests are in Public health nutrition, focusing on maternal and child nutrition. He is also researching on body composition studies among women and children in view of the rapid rise in diet related non-communicable diseases. 
 
Publications
Hemsworth, J., Arimond, M., Kumwenda, C., Rehman, A.M., Maleta, K., Ashorn, U., Keogh, R. and Ferguson, E.L., 2018. Comparison of an interactive 24-h recall and weighed food record for measuring energy and nutrient intakes from complementary foods among 9–10-month-old Malawian infants consuming lipid-based nutrient supplements. British Journal of Nutrition

, 

120

(11), pp.1262-1271.

Kumwenda C

, 

Dewey KG

, 

Hemsworth J

et al. (2014). Lipid-based nutrient supplements do not decrease breast milk intake of Malawian infants. Am J Clin Nutr, 2014; 99:617-23.
Kumwenda C, Hemsworth J, Phuka J et al. (2015) Factors associated with breast milk intake among 9-10-month-old Malawian infants. Matern Child Nutr.Published online 11 August 2015. doi:10.1111/mcn.12199
Kumwenda C, Hemsworth J, Phuka J, et al. Association between breast milk intake at 9–10 months of age and growth and development among Malawian young children. Matern Child Nutr. 2018;e12582. https://doi.org/ 10.1111/mcn.12582
Maleta KM, Phuka J, Alho L, Cheung YB, Dewey KG, Ashorn U, Phiri N, Phiri TE Vosti SA, Zeilani M, Kumwenda C, Bendabenda J, Pulakka A, Ashorn P. Provision of 10–40 g/d Lipid-Based Nutrient Supplements from 6 to 18 Months of Age Does Not Prevent Linear Growth Faltering in Malawi. J. Nutr. 10 June 2015 doi:10.3945/jn.114.208181 [epub ahead of print].
Christine P. Stewart Brietta M. Oaks Kevin D. Laugero Ulla Ashorn Ulla Harjunmaa Chiza Kumwenda et al. Maternal cortisol and stress are associated with birth outcomes, but are not affected by lipid-based nutrient supplements during pregnancy: an analysis of data from a randomized controlled trial in rural Malawi. BMC Pregnancy Childbirth. Published online 2015 Dec 22. doi:  

10.1186/s12884-015-0793-8

Hemsworth J, Kumwenda C, Arimond M et al. (2016) Lipid-Based Nutrient Supplements Increase Energy and Macronutrient Intakes from Complementary Food among Malawian Infants. J Nutr. Published online 6 January 6, 2016. doi: 10.3945/jn.115.215327
Arimond M, Abbeddou S, Kumwenda C et al (2016) Impact of small quantity lipid-based nutrient supplements on infant and young child feeding practices at 18 months of age: Results from four randomized controlled trials in Africa. Matern Child Nutr DOI 10.1111/mcn.12377
A. Pulakka, Y. B. Cheung, K. Maleta, K. G. Dewey, C. Kumwenda, J. Bendabenda, U. Ashorn and P. Ashorn. Effect of 12-month intervention with lipid-based nutrient supplement on the physical activity of Malawian toddlers: a randomised, controlled trial. British Journal of Nutrition (2017), 117, 511–518
Jorgensen JM, Arnold C, Ashorn P, Ashorn U, Chaima D, Cheung YB, Davis JC, Fan YM, Goonatilleke E, Kortekangas E, Kumwenda C, Lebrilla CB, Maleta K, Totten SM, Wu LD, Dewey KG. Lipid-Based Nutrient Supplements During Pregnancy and Lactation Did Not Affect Human Milk Oligosaccharides and Bioactive Proteins in a Randomized Trial. J Nutr. 2017 Aug 9. pii: jn252981. doi: 10.3945/jn.117.252981. [Epub ahead of print]
Adams KP, Ayifah E, Phiri TE, Mridha MK, Adu-Afarwuah S, Arimond M, Arnold CD, Cummins J, Hussain S, Kumwenda C, Matias SL, Ashorn U, Lartey A, Maleta KM, Vosti SA, Dewey KG. Maternal and Child Supplementation with Lipid-based Nutrient Supplements, but Not Child Supplementation Alone, Decreases Self-Reported Household Food Insecurity in some settings. J Nutr. 2017 Dec;147(12):2309-2318. doi: 10.3945/jn.117.257386. Epub 2017 Oct 4.