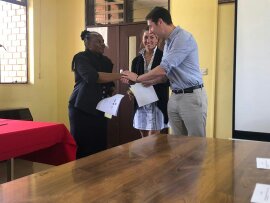 The University of Zambia through the School of Agricultural Sciences, Department of Food Science and Nutrition signed an MoU with an Irish based charity organisation i4Life. The partnership will propel collaborative efforts that will see students following the Human Nutrition programmes access facilities for Neri Clinic located at Linda Compound of Lusaka District.
Some of the activities planned to be implemented in this MoU, are:
Capacity building of community health workers (CHWs) and other Neri clinic staff;
Placement of BSc. Human nutrition students for field observations, health facility experience and 6 weeks internship programme for third year students;
One-year internship programme to recent BSc. Human Nutrition graduates, and;
Joint research, workshops and meetings, leading to joint publications.
Published on June 26, 2019