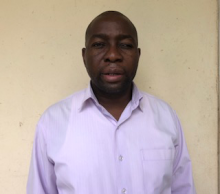 Department of Agricultural Economics and Extension Education
Biography
Academic Qualifications:
PhD Environmental Economics, Pretoria University
M.Sc. Agricultural Economics, University of Zimbabwe
B. Agric Sc. Agricultural Economics, University of Zambia
Dr. Elias Kuntashula joined the university as a lecturer in February 2005. Prior to that, he worked for the CGIAR organization where he headed the on-farm research department of an International Agroforestry Project in Zambia, the World Agroforestry Centre. He was responsible in planning, designing and implementing on farm research of agroforestry technologies; monitoring and evaluating the agroforestry technologies, and evaluating financial and economic viability of the technologies. At the university, he is involved in the core activities of the university: teaching, research and community service. He teaches several agricultural economics related courses such as Econometrics, Quantitative Methods in Agricultural Economics, Research Methodology, Agricultural Policy and International Trade at both Bsc and Msc levels. His research interest areas include impact evaluation of various sustainable agricultural practices and environmental assessments.
Publications
On-going Research
Impact of the Farmer Input Support Policy on Agricultural Production Diversity and Dietary Diversity in Zambia. Funding partner: African Economic Research Consortium (AERC), 2017 – to date.
Selected Publications
Elias Kuntashula, Robert Nhlane and Fulayi Chisola (forthcoming).  Adoption and impact of fertiliser trees on heterogeneous farmer classified soil types in Chongwe District of Zambia. (Agrekon, In press)
Kuntashula E, Chabala L.M, Chibwe T.K and Kaluba P (2015) The effects of household wealth on adoption of agricultural related climate change adaptation strategies in Zambia. Sustainable Agriculture Research Vol. 4, No. 4; 2015, ISSN 1927-050X E-ISSN 1927-0518
Kuntashula E and Mungatana E (2015). Estimating the causal effect of improved fallows on environmental services provision under farmers field conditions in Chongwe – Zambia (Environment and Development, 20 (01): 80 -100; DOI:10.1017/S1355770X14000011).
Van der Horst, D., S. Vermeylen and E. Kuntashula 2014. The hedgification of maizescapes? Scalability and multi-functionality of Jatropha curcas hedges in a mixed farming landscape in Zambia (Ecology and Society, 19(2): 48 http://dx.doi.org/10.5751/ES -06437-190248).
Kuntashula, E.,   van der Horst D., and Vermeylen S (2014). A pro-poor biofuel? Household wealth and farmer participation in Jatropha curcas seed production and exchange in Eastern Zambia (Biomass and Bio-energy – 63: 187 -197.
Contact Details
ekuntashula@unza.zm