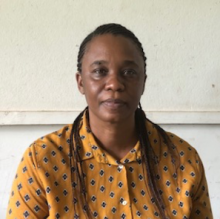 Department of Agricultural Economics and Extension Education
Biography
Academic Qualifications
Ph.D., Rural Development and Planning, University of Pretoria
MBA (Small Business Development and Planning), Makerere University
B.Sc. Hons. Agric. Agricultural Economics & Extension), Makerere University 
Dr. Rebecca Namulindwa Kiwanuka Lubinda joined the university as a lecturer in November 2002. At the university she is involved in the core activities of: teaching, research and community service. She currently teaches and coordinates undergraduate courses (Agribusiness management and Agricultural finance). Through active engagement with international organizations, non-governmental organizations, the private and public sector, she has provided capacity building, research, and community and consultancy service in the following areas of research interest. Value chain analysis, development and governance (particularly inclusive business models linking smallholder farmers with agribusinesses), strategic planning for improved food systems, rural livelihood strategies, entrepreneurship, impact assessment of agricultural interventions, food and agricultural markets policy analysis and cross cutting issues such as gender and environment in relation to agricultural development. 
 
Publications
List of ongoing-research
Principal Investigator:  Gendered Impacts of Input Subsidy Policies on Household Crop Diversity and Food Security: Evidence from Zambia. Funding partner: African Economic Research Consortium (AERC), 2018 – to date.
Co-researcher, Impact of the Farmer Input Support Policy on Agricultural Production Diversity and Dietary Diversity in Zambia. Funding partner: African Economic Research Consortium (AERC), 2017 – to date.
Selected list of publications, articles, books and conferences
Kiwanuka, R.N.L. and Machethe, C. Impact of Participation of Smallholder Farmers in Interlocked Contractual Arrangements on Household Income in the Dairy Sector of Zambia" the 55th Agricultural Economics Association of South Africa (AEASA) conference held on the 19th -21st September 2017 at the Southern Sun Elangeni & Maharani Hotel, South Africa.
Kiwanuka, R.N.L and Machethe, C. 2016. Determinants of Smallholders' Participation in Zambia's Dairy Sector's Interlocked Contractual Arrangements. Journal of Sustainable Development; 9(2): 230-245.  doi:10.5539/jsd.v9n2p230 URL: http://dx.doi.org/10.5539/jsd.v9n2p230.
Kiwanuka, R.N.L. Machethe, C., Nkonde.C. and Marinda, P.M. Determinants of Smallholder Farmers' Access to Credit from Zambia's Dairy Sector Interlocked Contractual Arrangements. Paper presented at the 2016 Global Development Finance Conference; held at The Gateway Hotel, Umhlanga, Durban, South Africa on 23rd-24th November 2016.
Chabala .L.M., Kuntashula, E and Lubinda, R.K.N. (2013). Assessment of the Impact of Climate Change on Land Use and Related Adaptation Strategies in Zambia's Agro-Ecological Zones I and II. Department of Soil Sciences (UNZA), Department of Agricultural Economics and Extension (UNZA) and Michigan State University/IFPRI.
Lubinda, R.N.K, R. Bwalya, T. Kalinda, J. Asimwe, and G. Tembo. 2011. Assessment of Factors associated with Common Bean Production in Zambia's Kafue District. Journal of Science and Technology, 15(1): 29-35.