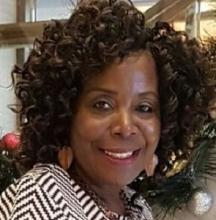 Department of Physiotherapy
Biography
Academic Qualifications:
2010 - Erasmus Mundus Master of Bioethics (with Magna Cum Laude: higher distinction) - Offered by consortium of 3 Universities – Katholieke Universiteit Leuven, Belgium; Radboud University, Nijmegen, Netherlands; University of Padova, Italy. 
2006 - PhD – University of Stellenbosch South Africa 
2004 - Post Graduate Diploma in International Research Ethics – (with Merit) University of Cape Town South Africa
1998 - Master of Science Degree in Physiotherapy (with Merit) University of the Western Cape, Cape Town, South Africa.
1996 - Bachelor of Science (Hons) in Physiotherapy (with Merit) University of the Western Cape, Cape Town, South Africa.
1990 - Diploma in Special Education (with Distinction), University of Oslo, Norway
1983 - Diploma in Physiotherapy, Evelyn Hone College, Lusaka Zambia
 
Esther Munalula Nkandu (a Physiotherapist and Bioethicist) is an Associate Professor in The University of Zambia (UNZA) where she serves as founder Dean of the School of Health Sciences. As a Physiotherapist she was founder head of the Department of Physiotherapy (UNZA), in the then School of Medicine from 2000-2013. She has presided over the Zambia Society of Physiotherapy and has also served as Chairperson of the World Confederation for Physical Therapy- (WCPT) Africa Region. She now serves as Africa Region Member on the WCPT Board, Trustee on WCPT Trading and Chairperson of Finance Committee of WCPT Board and Treasurer General of WCPT.  
As a Bioethicist she has chaired the Biomedical Research Ethics Committee in the School of Medicine and also served as a Member of Zambia's National Health Research Ethics Committee for over 5 years. Esther has served as Vice Chairperson of UNZA Natural and Applied Science Research Ethics Committee, and also serves as Chairperson of the ERES Converge IRB (a Private Research Board).  In collaboration with other universities in Europe, she has served as a visiting Scholar and Coordinator of the Research Ethics Course on the Erasmus Mundus Master of Bioethics Programme in Italy. She is also a recipient as Principal Investigator/Coordinator of EDCTP and CDC funded activities. 
Outside the University of Zambia she has served on various Boards including having chaired the Road Transport and Safety Agency and the Radiation Protection Authority and Vice Chairperson of the Medical Council of Zambia (now Health Professions Council of Zambia).  She is a trained trainer in Corporate Governance and also serves as President of the Institute of Directors (IoD) Zambia.  Prof Munalula Nkandu is also a Fellow of the Governance Institute - ISCA.
Research Interests
HIV & AIDS, Palliative care
Research Ethics - consenting 
Health promotion (Health Behaviour, Adolescent Reproductive Health)
Governance
 
Contact Details
esther.nkandu@unza.zm, em_munalula@yahoo.com