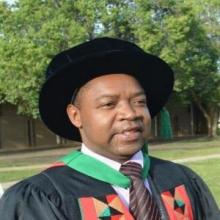 Department of Pharmacy (Health)
Head of Department
Lecturer
Biography
Academic Qualifications:
Doctor of Philosophy (PhD) -Pharmacology & Clinical Nutrition
Master of Public Health (MPH)
Bachelor of Pharmacy (BPharm)
Diploma in Education (DipEd) 
Dr Derick Munkombwe is a Pharmacist and Lecturer with a strong background in education, pharmacy, public health, and pharmacology/clinical nutrition obtained from the University of Zambia between 1997 and 2017. Dr Munkombwe is heavily engaged in the training of pharmacy and research students at all levels of their development. His recent research activities include studying the renal pharmacokinetic interactions of antiretroviral drugs with micronutrients in HIV/AIDS patients. This involves analyzing drug levels in the blood or hair of patients. These clinical studies are needed to verify links between antiretroviral drugs such as tenofovir levels in low body mass index HIV-positive patients and development of adverse events in general and disrupted renal functions in particular.
Research Interests
Clinical Pharmacology, Clinical Nutrition & Infectious Diseases