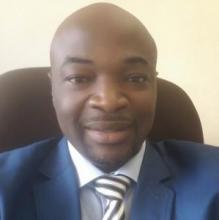 Department of Public Law
Biography
Academic Qualifications:
LLD (University of South Africa)
LLM (University of Zambia),  
LLB Hons (University of London)
Dr. O'Brien Kaaba, is a lecturer in law at the University of Zambia and a senior research fellow at the Southern African Institute for Policy and Research (SAIPAR). O'Brien also holds a diploma in philosophy from St. Augustine's Catholic Philosophical College. He is an associate editor of the SAIPAR Case Review Journal, the only case commentary journal in the country focusing on reviewing decisions of superior courts in Zambia and in the African region.
Prior to joining the academia, O'Brien worked in development cooperation. He has formerly served as a Child Protection Coordinator for Plan International (Plan),  Elections Manager for the National Democratic Institute for International Affairs (NDI) in Zambia, Political Specialist for the US Department of State at the American Embassy in Lusaka (Zambia) and as Human Rights and Rule of Law Advisor for the Germany Development Cooperation (GIZ).  
His teaching subjects currently are Constitutional Law, Jurisprudence, International Humanitarian Law, and Legal Process.
Research Interests
Comparative constitutional law,
African electoral laws and systems,
LGBT,
The African human rights system,
International humanitarian law (with special interest in the prosecution of crimes of sexual violence),
African integration law, jurisprudence and legal theory,
Gender violence.
Publications
Peer Reviewed Works
O'Brien Kaaba (with Greenwell Matchaya and Charles Nhemachena), "Judiciability of the Right to Water in the SADC Region: A Critical Appraisal" (2018) 7 Laws Review
O'Brien Kaaba, "Raila Omolo Odinga and Another v Independent Electoral and Boundaries Commission and Others" in SAIPAR Case Review Volume 1 Issue 2 2017
O'Brien Kaaba, "Milford Maambo and Others v The People"  in SAIPAR Case Review Volume 1 Issue 2 2017
O'Brien Kaaba, "Constitutionality of Criminal Procedure and Prison Laws in Africa: Zambia" CSPRI (Dullar Omar Institute, 2016)
O'Brien Kaaba (with Gwenaelle Dereymaeker, Winluck Wahiu, Tina Lorizzo, and Guy-Fleury Ntwari), "Constitutionality of Criminal Procedure and Prison Laws in Africa: A Comparative Study of Burundi, Cote d'Ivoire, Kenya, Mozambique and Zambia" CSPRI (Dullar Omar Institute, 2016)
O'Brien Kaaba, "The Challenges of Adjudicating Presidential Election Disputes in Domestic Courts in Africa" (2015) 15  African Human Rights Law Journal 329-354
O'Brien Kaaba, "The African Charter on Democracy, Elections and Governance: An Elections Checklist on Zambia," Zambia Social Science Journal, (2015) Volume 3, Number 2

Non -Peer Reviewed
O'Brien Kaaba, "The Challenges of Accessing Justice in Zambia" the Bulletin&Record  (Volume V, Issue 1 February 2015)
O'Brien Kaaba, "Zambia: Rechtsstaatlichkeit nur aut dem papier?" Afrika-bulletin, February 2018
O'Brien Kaaba (with Franziska Bertz) "Implications of Enshrining Economic, Social and Cultural Rights in the Zambian Constitution", JCTR Journal (2012)
O'Brien Kaaba, "Ten Factors that militate against free, fair and genuine elections in Zambia," JCTR Journal (2011)
O'Brien Kaaba, "Marital Rape of Women: theology and the law,"  JCTR Journal (2010)
O'Brien Kaaba, Our Children and the Law: a perspective from the Zambian Legislation, Booklet for Plan International (2009)
Peer Reviewed Publications in Progress
O'Brien Kaaba, "The Application of Universal Jurisdiction in Africa" in Jeremy Sarkin, ed, Africa's Role and Contribution  to International Criminal Justice (Intersentia Supranational Criminal Law Series)
O'Brien Kaaba, "Corruption in the Contraction and Management of Public Debt in Zambia: Bringing Back Rule of Law and Constitutionalism (UN Economic Commission for Africa/AU)
O'Brien Kaaba, "Gender into Constitutional Law: A Look at the Constitutional Law curriculum through Gender-Sensitive Lens," in Mulela Margeret Munalula et al, ed, Gender and the Law in Zambia (UNZA Law School)
O'Brien Kaaba, "Zambia,"  in Christof Heyns and Frans Viljoen, Impact of  the United Nations Human Rights Treaties on Domestic Level (Center for Human Rights, University of Pretoria)
O'Brien Kaaba, Human Rights Law Module (IDE/University of Zambia)
O'Brien Kaaba, "Homosexuality in Zambia: Exploring the Interplay of Religion, Human Rights and Constitutionalism" (African Association for the Study of Religions)
O'Brien Kaaba, "The Role of Supranational Adjudication in Fostering Constitutionalism, Good Governance and Democratic Accountability in the SADC Region (SADC Law Journal)
O'Brien Kaaba et al, The African Borrowing Charter (AFRODAD)
O'Brien Kaaba (with Babatunde Fagbayibo), "Promoting the Rule of Law Through the Principle of Subsidiarity in the African Union (AU):  A Critical Perspective", in Charles Manga Fombad, ed, Democracy, Elections and Constitutionalism in Africa (Oxford University Press)
O'Brien Kaaba, "South Africa Look What You Have Done to Us: Exploring Reasons for the Failure of the South African Constitutional Court Model in Zambia (Constitutional Court Review Journal, Wits University)
O'Brien Kaaba, "Electoral Corruption and the Adjudication of Disputed Presidential Elections in Africa" in Charles Manga Fombad, ed, Corruption and Constitutionalism in Africa: Revisiting Control Measures and Strategies (Oxford University Press) 
O'Brien Kaaba and Privilege Hang'andu, "The Electoral Commission of Zambia and the Management of Elections" in Muna Ndulo, ed, Elections in Zambia: Past, Present and Future (SAIPAR)
O'Brien Kaaba, "Adjudication of Disputed Presidential Election Disputes in Zambia" in Muna Ndulo, ed, Elections in Zambia: Past, Present and Future (SAIPAR)
O'Brien Kaaba, Marja Hinfelaar and Michael Wahman, "Institutional Legacy and the Resilience of Competitive Authoritarianism: Constitution Making in Zambia (publisher to be determined)
O'Brien Kaaba, "The Unconstitutional Change of Government Normative Framework in Africa: Do Elections Matter?" in Muna Ndulo et al, eds, Handbook of African Law (Routledge)
O'Brien Kaaba (with John Hatchard and Muna Ndulo), The Law of Evidence, 2nd edition (Publisher TBD)