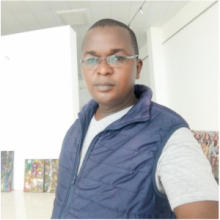 Department of Geography and Environmental Studies
Biography
Kabwe Harnadih Mubanga is a lecturer and researcher at the University of Zambia. He holds a PhD in Environment and Society from the University of Pretoria in South Africa, an Academic Honorary Colours Award from the same University, and a Masters Degree in Geography from the University of Zambia. He is currently serving as the Postgraduate Coordinator and Programme Coordinator in the Department of Geography and Environmental Studies. He also serves as a Climate Change Specialist under the National Technical Committee for Climate Change and is a member of the core team of Climate Change Negotiators for Zambia. He sits on the Adaptation and Means of Implementation climate change sub-committees for Zambia. He has coordinated the implementation of several projects, including PROSPERO Zambia's Attribution for Measuring Impacts of Covid-19 on Zambia's Tourism and Agriculture sectors, the Disaster Management and Mitigation Unit's (DMMU) Vulnerability Assessments, and the Third National Communication to UNFCCC, funded by the UN Environment Program's Global Environment Facility, as well as the Transforming Landscapes for Resilience and Development (TRALARD) project in Luapula Province of Zambia funded by the World Bank among other projects.
Research Interests
Kabwe's research interests are Climate Change, Greenhouse Gas Inventory and Assessments, Vulnerability Assessments, Rural Livelihoods, Food Security, Sustainable Agriculture.
Publications
Peer-Reviewed Journal Publications
Kapembwa, M. and Mubanga, K.H (2020). Sustainable Household Practices for Environmental Sustainability in Informal Settlements: Insights From Kanyama Ward 10, Lusaka, Zambia. Journal of Environment and Ecology, 12 (1): 1-24. doi:10.5296/jee.v12i1.18257 
Mubanga, K.H. and Steyn M.J. (2020). Rainfall is not the most limiting factor to maize (Zea mays L.) production in intermediate rainfall regions of Zambia. Lessons from Choma District. Journal of Agricultural Policy, 3 (1): 18-40. https://doi.org/10.47941/jap.377
Mbewe J. and Mubanga K.H (2020). Smallholder Farmer's Livelihood Diversification as A Response to Changed Climatic Patterns in Chongwe District, Zambia. Journal of Agricultural Policy, 3 (1): 1-17. https://doi.org/10.47941/jap.364
Lusonde, C. and Mubanga K.H (2019). Residents' perceptions of the environmental and social impacts of KCM's mining activities in Nchanga North Township, Chingola, Zambia. Environmental Management and Sustainable Development Journal, Vol 8, No 4, 75-92. doi:10.5296/emsd.v8i4.15591 
Musonda-Mubanga A., Chakanika W. W., and Mubanga K. H. (2019) Sanitation and Hygiene in Public Boarding Schools in Chongwe Zambia: What do pupils know? Do they care? Chalimbana University Multi-Disciplinary Journal of Research, Vol 1(1): 1-11.
Mubanga, B.C., Mubanga, K.H., and Alubi, T. (2018). Characterization of Selected Maize Varieties for All-Year-Round Sweet Corn Production in Malawi. Food Science and Quality Management, 76: 77-84.
Mubanga, K. H., and Ferguson, W. 2017. Threats to food sufficiency among smallholder farmers in Choma, Zambia. Food Security, 9,745–758. DOI 10.1007/s12571-017-0700-4
Mubanga, K. H. 2017. Land Resource Regimes in Zambia: Implications on Local Food Systems. Asian Journal of Environment & Ecology, 1(2): 1-13. DOI: 10.9734/AJEE/2016/30373
Umar, B. B., and Mubanga, K. H., 2016. Do locals benefit from being in the 'tourist capital'? Views from Livingstone. Tourism and Hospitality Research Journal, 1, 1–13. doi.org/10.1177/1467358416663817
Mubanga, K. H., and Umar, B.B. (2016). 'Tourism Is for Foreigners': Resident Views About Community Participation in Zambia's Tourist Capital. Tourism, Culture & Communication, 16, 75-89. doi.org/10.3727/109830416X14655571061791
Mubanga, K. H., Umar, B.B., Muchabi, J. and Mubanga, C. 2015. What drives smallholder farmers' crop production choices in Central Zambia? Lessons from the 2012/2013 agricultural season. Journal of Agricultural Studies, 3, 1-16. doi.org/10.5296/jas.v3i2.7125
Mubanga, K. H., Umar, B.B. (2014). Smallholder Farmers' Responses to Rainfall Variability and Soil Fertility Problems by the Use of Indigenous Knowledge in Chipepo, Southern Zambia. Journal of Agricultural Science, 6(6): 75-85. doi:10.5539/jas.v6n6p75
Conference Proceedings
Mubanga, K. H. 2014. Assessing Seed Breeders Recommended Maize Varieties for Southern Zambia: How Small-Scale Farmers Have Adapted. International Conference on Agricultural, Environmental and Biological Sciences (AEBS-2014) April 24-25, 2014 Phuket, Thailand: IICBE. https://doi.org/10.15242/iicbe.c414017
Mubanga, K. H., and Umar, B.B. 2014. Climate Variability and Change in Southern Zambia: 1910 to 2009. In: IPCBEE (ed.) 2014 International Conference on Intelligent Agriculture (ICOIA). Hong Kong: IACSIT Press, Singapore. https://doi.org/10.7763/ipcbee
Book Chapters
Nyanga, P. H., Umar, B. B., Mubanga, K. H., Chibamba, D., Kunda- Wamuwi, C.F., (2019) Conservation agriculture (CA) in sustainable food systems In: Rusinamhodzi, L. (ed.) The role of ecosystem services in sustainable food systems. Elsevier. ISBN: 9780128164365.
Mubanga K.H. and Eva Nambeye-Kaonga (2021). The Failure of Common Farming Systems in Promoting Livelihood Diversification and Food Sufficiency among Smallholder Farmers: Evidence from Choma, Zambia (2021) In: Opportunities and Challenges of Smallholders and Smallholding. Nova Science Publishers. ISBN: 978-1-53619-135-6.