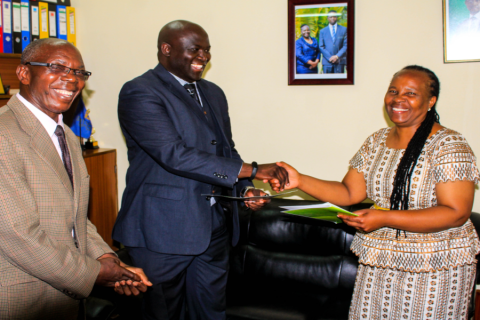 The University of Zambia through UNZA Press has signed a Memorandum of Understanding with Mika Hotels to help in the publishing of the ZANGO, Journal of Contemporary Issues. 
Speaking during the signing ceremony which was held on 1st April 2019, UNZA Deputy Vice-Chancellor Professor Enala Tembo-Mwase called for pro-activeness in actualising the areas of cooperation in the MoU. Prof Mwase was hopeful that the signed MoU was going to be a success and that both UNZA and Mika would benefit. She noted that in the past UNZA has struggled to publish various Journals such as ZANGO, Journal of Humanities, Africa Social Research Journal, Zambian Law Journal, Zambian Papers and UNZA Journal of Science and Technology due to inadequate funds. "This situation has frustrated many lecturers who have opted to have their papers published in other Journals outside UNZA but with the signing of this MoU this situation will become a thing of the past," she said.
And Mika Group of Hotels Human Resource Manager Mr Watopa Biemba said the company was ready to do its best to ensure that the MoU was successful. He reiterated that it was the responsibility of the two parties to make the MoU successful and that Mika was happy to have partnered with UNZA in printing the Journal, which would support the publication of research outputs.
"Mika Hotels will assist UNZA to print the ZANGO Journal of Contemporary Issues twice in a year. In return, Mika Hotels will be providing gym and accommodation facilities on a discount to UNZA employees, schools, Units and Departments which may wish to utilise such facilities. This MoU is renewable after 24 months and Mika Hotels hopes to draft in all the remaining UNZA Press journals later,'' he said.
Meanwhile, UNZA Publisher Mr Christopher Siulapwa said the signing of the MoU was a sigh of relief as UNZA Press would now focus more on processing various articles to be published by Mika.
In addition, Acting Deputy Publisher Mrs Florence Mpandamabula who is also the Editor-in-charge of ZANGO noted that many authors who had given up on publishing articles with UNZA Press could now have a glimmer of hope knowing that their articles would now be in print within a reasonable period of time as compared to waiting for so many years.
"It is now up to our authors to respond to the Call for Papers because funds are readily available to publish the journal," she added. Mrs Mpandamabula also revealed that currently Volume 31 of the Journal was being
finalised and would be the first one to be printed by Mika. "It is hoped that with this development, UNZA lecturers will take advantage of this MoU to publish articles and promote the publication of research outputs," she said.