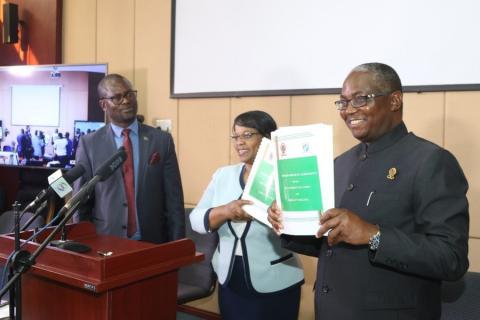 The University of Zambia (UNZA) through the School of Engineering has entered into a Memorandum of Agreement (MoA) with the Zambia Information and Communication Technology (Zambia ICT) College in Ndola to undertake teaching, research and consultancy in electrical and electronics engineering and other Information and Communication Technology (ICT) fields of study.
Speaking during the signing ceremony the Deputy Secretary to Cabinet Dr Martin Mtonga said Government has decided to commercialize the Zambia ICT College and that while the college will remain a Government entity, it will fall under the Industrial Development Corporation (IDC). He said Government recognized the role that ICTs play in accelerating the socio-economic development of the country, therefore, it will support the collaboration between UNZA and Zambia ICT College.
And UNZA Vice-Chancellor Professor Luke Mumba said UNZA was ready to train all teaching staff at ICT College from Masters to PhD level in ICT, Electrical and Electronic engineering. Prof Mumba said that the demand for engineering programmes was high and that he was hopeful that the launch of engineering programmes at Zambia ICT College supported by UNZA was going to help cushion the demand.
Professor Mumba also emphasized the importance of good infrastructure for teaching and learning and expressed gratitude to Smart Zambia, Zambia Information and Communication Technology Authority (ZICTA) and other co-operating partners, who helped establish a Centre of Excellence at the Zambia ICT College.
Meanwhile, Zambia ICT College Executive Director Ms Betty Bweupe acknowledged that the partnership with UNZA which started early this year with the Bachelor of ICT in Education under the School of Education and now with a bouquet of undergraduate and postgraduate programmes under the School of Engineering, has helped to reposition the College as a National Centre of Excellence in ICT training.
Ms Bweupe has further appealed to the professional community on the Copperbelt, Northern and North-Western Region of Zambia to seize the opportunities now available at Zambia ICT College in collaboration with UNZA to read for among others the Bachelor of Engineering (Software Engineering), Master of Engineering (ICT), Master of Engineering (ICT Security), Master of Engineering (ICT Policy and Regulation) and the Master of Engineering (Computer Engineering).