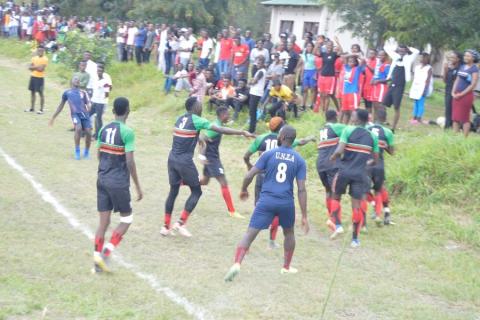 The University of Zambia (UNZA) bagged nine gold medals at the just ended Zambia Universities Sports Association (ZUSA) games which were hosted by Copperstone University from 4th to 9th March 2020. 
 The games which were officially opened by the Minister of Higher Education Dr Brian Mushimba attracted thirteen (13) universities across the countries, and the  Minister in his opening remarks pledged to support students sports activities as a vital activity in enhancing student life in Universities.
The thirteen Universities which participated in the games include Catholic University, Chalimbana University, Copperbelt University, Kapasa Makasa University, Kwame Nkrumah University, Levy Mwanawasa Medical University and Lusaka Medical Apex University. Other universities were Mukuba University, Mulungushi University, Rockview University, the University of Zambia, University of Lusaka and Zambian Open University.
UNZA Sports and Recreation Officer Mr Mwape Nshimbi said the University of Zambia finished 2nd in Badminton, Netball (Ladies), Table Tennis (Gents) and third in ladies soccer.
Mr Nshimbi who was bubbling with joy for leading a triumphant team of 172 athletes thanked the students for their continued good performance. He further revealed that the selected participants from UNZA to be part of the ZUSA national team would be availed in due course by the Secretary-General of Zambia University Sports Association (ZUSA). "Several UNZA students are expected to be selected to represent the University in the regional Confederation of Universities & Colleges Sports Association (CUCSA) games," he said.
Mr Nshimbi said UNZA teams' performance was outstanding and won gold medals and prize money in men's Football, Volleyball (Ladies & Gents), ladies Tennis, Chess (Gents), Table Tennis (ladies), Netball (Gents) and Basketball (Ladies and Gents).
"The University of Zambia finished overall first position with 9 Gold medals ahead of Copperbelt University (3 Gold) and Kwame Nkrumah University (2 Gold)," he said.
The ZUSA games are the main sports attraction for the students in the calendar year. UNZA selects its representatives from the inter-schools, Inter-hostels and inter-campus games. With the huge numbers, it is competitive to make the University team.