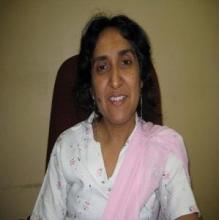 Department of Public Law
Biography
Academic Qualifications:
PhD,University of Africa,
LLB, LLM, UNZA,
ICSA, AHCZ,
Dr. Fatima Mandhu holds an LLB and LLM from the University of Zambia and PHD from the University Africa. Dr. Mandhu was admitted as an advocate of the High Court of Zambia in 1990. She holds a professional qualification as a Chartered Secretary. She has served as Head of the Private Law Department in the School. As Head of Private Law Department, she was involved in designing programmes coordinating and promoting research supervision and activities. She has taught, in among other courses, Medical Law and Company Law.
Research Interests
Mining Law,
Land law,
Medical Law,
Gender Law
Publications
Book Chapters
'Corporate Social Responsibility in the Mining Industries of Namibia, South Africa, and Zambia: Choices and Consequences' Sharing the Costs and Benefits of Energy and Resources Activity Legal Change and Impact on Communities (2016), Oxford University Press.
'Enforcement of Foreign Judgments: Zambia' in Enforcement of Foreign Judgments (July 2014), Kluwer Law International, Netherlands.
Articles in refereed journals 
Customary land tenure rights as part of the living law in Zambia and South Africa, The Journal of Law and Social Sciences (2014). 
'Land Titles Registration System: Titles Registry or Deeds Registry, the choice dilemma for Zambia,' Zambia Law Journal (2014). 
F Mandhu and J Mwamulima:' The practice and procedure of registering and enforcing foreign judgments in Zambia', Encyclopedia of Law (2014) 
'Mainstreaming disability equality in the world of work at country and institutional level in Zambia,' Zambia Law Journal (2012)
Electronic Conveyancing in the 21st Century, Law Association of Zambia Journal (2000) 
Unpublished Works
F Mandhu A hybrid system of Land Titles and Deeds registration as a new model for Zambia: A case study of the Lands and Deeds Registry Lusaka. (2015), PHD University of Africa.  
F Mandhu, Land Registration under a dual land tenure system in Zambia, (2000), A dissertation submitted to the University of Zambia in fulfilment of the requirements for the degree of Masters of Laws (LLM) of the University of Zambia  
F Mandhu, The Law relating to employment with particular reference to security of tenure for unionises and non-unionised employees, (1989), An essay submitted to the University of Zambia in partial fulfilment of the requirements for the degree of Bachelor of Laws (LLB) of the University of Zambia 
Ongoing Research
Mineral Law and Governance in Africa: Zambian perspective, a textbook to be completed by November 2018, Juta Publishers SA
Contact Details
fatimamandhu@gmail.com