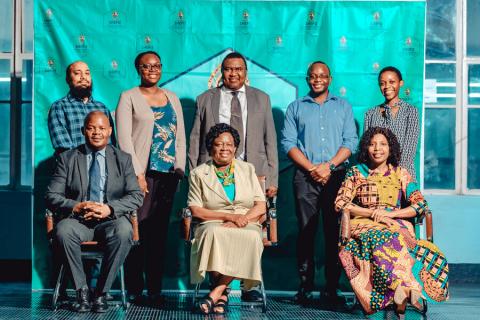 The University of Zambia (UNZA) Ridgeway Campus, through the Strengthening Health Professional Workforce Education Programs for Improved Quality Health Care in Zambia (SHEPIZ), has sponsored four (4) students who will do attachments in the Netherlands for one (1) month and one (1) in India for three (3) months in the field of pulmonology.
Sending off the students UNZA Acting Vice-Chancellor Prof. Anne Sikwibele urged the student to work hard considering that the period for the attachment was short.
She said students going to the Netherlands for a one-month training will be issued a certificate of elective attendance, and that attachment is not part of the formal training in pulmonology but an elective for one month that is intended to expose Internal Medicine MMED trainees to an established pulmonology unit in a first-world country.
And SHEPIZ Project Coordinator Dr Selestine Nzala said SHEPIZ is an innovative medical education programme focused on enhancing health services, multi-level research capacity building, and continued development of subspecialty-trained clinicians in Zambia.
"It is essentially a training grant to address the increasing disease burden and public health needs, the double burden of infectious and chronic diseases, such as Human Immunodeficiency Virus (HIV) and other Chronic Non-Communicable Diseases (NCDs), human resource capacity building and expanding health services research in Zambia," he said.
Dr Nzala revealed that the total cost of sending the 4 students in March and April to India as well as the Netherlands is USD 25, 092.78 approximately K486, 8000.00.
Meanwhile, giving a vote of thanks, Dr Joseph Chikuluma, who is also part of the trainees, thanked the university management and SHEPIZ in particular for affording the students an opportunity to be attached to a high-profile institution in the Netherlands.
Dr Chikuluma said such an opportunity will help the trainees acquire skills that will be beneficial not only to their careers but also to the nation at large.
The students who will attend the training are:
Dr. Lobina Renee Kajimanga
Dr Chisha Sinyangwe
Dr Joseph Chikuluma
Dr Afzal Waghat