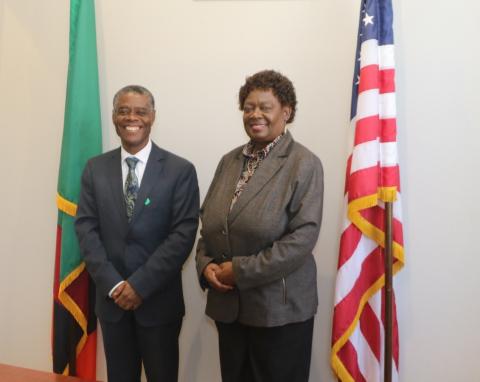 The University of Zambia (UNZA) Acting Vice-Chancellor, Prof. Anne Sikwibele, is leading a delegation to the United States of America for various strategic initiatives and partnership meetings with universities. As a first port of call, Prof Sikwibele's delegation paid a courtesy call on Zambia's Ambassador to the United States of America, His Excellency, Mr Lazarous Kapambwe, at the Mission Office in Washington, DC on Wednesday, 9 November 2022.  
The Acting Vice-Chancellor exchanged notes with Mr Kapambwe and outlined the goals of the visit which include expanding research collaboration, enhancing staff development opportunities and benchmarking resource mobilization and fundraising initiatives.
During the official visit, the Vice-Chancellor's delegation will hold meetings with leaderships at Vanderbilt University, Meharry Medical College, Cornell University, Suny Schenectady, Texas A and M University, Rice University and UNZA Alumni.