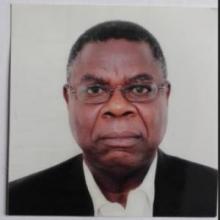 Department of History
Biography
Professor Francis B. Musonda Joined the University of Zambia on November 1, 2005 in the then Department of History as Senior Lecturer in Archaeology. He attended University of Zambia from 1968 to 1973 where I obtained a Bachelor of Science Degree (BSc.)  with Credit in Mathematics and Geography ; University of Ghana (Legon) from 1973 to 1976 in African Archaeology ; and University of California (Berkeley) from 1979 to 1983 and graduated in Archaeology. His main research focus is on the transition from hunting and gathering way of life to food production.  Archaeological research has concentrated on the excavation of caves and rock shelters where evidence of transition is likely to be found. He has taught Archaeology under Undergraduate and Postgraduate programmes leading to the award of BA and MA degrees to students.
Research Interests
To understand the mechanism and dynamics that marked the transformation from hunting and gathering subsistence patterns to a food processing economy.
To understand the adaptation of traditional systems to local environments and their impact on local communities.
Publications
(The Last 5 years)
Chapters in Books (Refereed)
2013 "Looking back and Looking Forward: Iron Age Studies in Southern Zambia and Their Contribution to the Understanding of the Tonga", edited by Lisa Cligget and Virginia Bond, Tonga Timeline. Appraising Sixty Years of Multidisciplinary Research in Zambia and Zimbabwe. Lusaka: Lembani Trust.
        (b) Refereed Journal Articles
2016 "The hunter-gatherers of Muchinga Escarpment and their technological and subsistence make up during the last 20,000 years", Journal of Humanities.
2017 Exploring differences and finding connections in archaeology and history practice and teaching in the Livingstone museum and the University of Zambia, 1973 – 2016, Journal of African Studies.
2013 "Decolonizing the Broken Hill Skull: Cultural Loss and a Pathway to Zambian Archaeological Sovereignty".
          African Archaeological Review 30 (2):195-220.
2013 "Ethnicity and Ethical Issues in Archaeological Interpretation: The Case of Chakeluka Iron Age Site, Lusaka, Zambia".
          South African Archaeological Bulletin 68 (197):52-62.
2012 "100 Years of Archaeological Research in Zambia: Changing Historical Perspectives".
           South African Archaeological Bulletin 67 (195):88-100.
Contact Details
francis.musonda@unza.zm