Eating Places
Oases Cafeteria
Oases Cafeteria is the biggest canteen within the University of Zambia main campus, with 280 seating capacity (with possibility to extend to 500 seats). Oases Cafeteria serves both breakfast and lunch.
The lunch menu of Oases covers meals for different appetites. This includes: goatmeat , t-bone, beef stew, village chicken and boiled or fried fish. Dishes are served with nshima, rice or chips (French fries) and vegetables include; rape, pumpkin leaves and gabbage. On some days, even soya chunks are served.
If feeling peckish, there are also scones and pies available.
Location: next to the Sports Hall
Opening hours: 7.30-21.00 (Monday-Sunday)
Price range:
Breakfast = K10-20
Lunch = K12-25
Lecturer´s Canteen
Despite the name, Lecturer´s Canteen invites everyone, from students to public, to enjoy warm meals and cool refreshments. On the cosy coaches one can relax before rushing for the next lecture, and watch the latest news or catch up with the sports on the sports channel before rushing to the lecture. In addition, the lecturer's canteen is next to the rooftop that allows you to have a wider view of the goma lakes and scenery to the campus area.
The menu gives variety of choices, including t-bone, goat meat, beef stew, chicken, kapenta and grilled bream. Dishes are served with nshima, rice or boiled/fried potatoes. Relishes include rape, beans, pumpkin leaves, impwa or coleslaw-salad.
If feeling just peckish, there are also samosas served.
Location: School of Humanities and Social Sciences building, 5th floor
Opening hours: MON-SUN from 8hrs until according to need (Lunch 11hrs-17hrs)
Price range: K15-25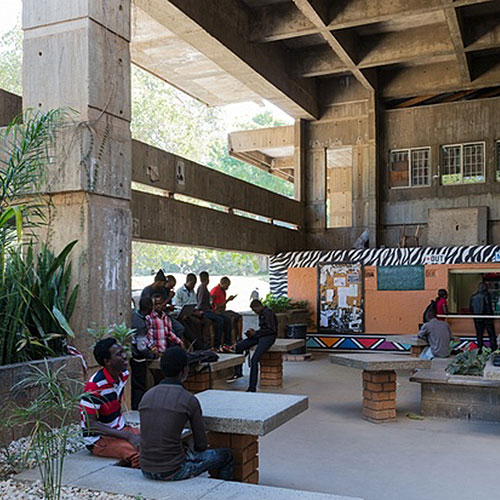 Mingling bar
Mingling bar is a convenient meeting place, and being an internet connection hotspot, therefore attracts students to seat there and work on with their computers. Mingling Bar serves refreshments and small snacks like milkshakes, pies, sausages, buns, cookies and chips.
Location: downstairs at the school of Humanities and Social Sciences and the Administration Building
Opening Hours: 8-19hrs
---