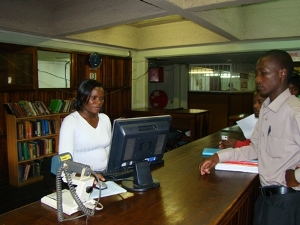 Bonafide students and staff of the University of Zambia and retirees are eligible for borrowing privileges upon presentation of a valid University of Zambia ID card. Privileges include:
2 week loan period for undergraduates with a renewal limit of up to 2 times
3 month loan period for postgraduates, staff with a renewal limit of up to 3 times.
Full access to databases, indexes, full-text, and other digital resources.
Undergraduate, graduate, and professional students, not registered for classes, but finishing up an incomplete class, thesis, or research may apply for borrowing privileges.
Visitors may access physical materials (books, journals, etc) within library buildings. Current students and staff may check out materials using their identification card. Theses (in print format) may be borrowed but can only be used within the Library.  However thesis in electronic format are also accessible from the UNZA Institutional Repository.