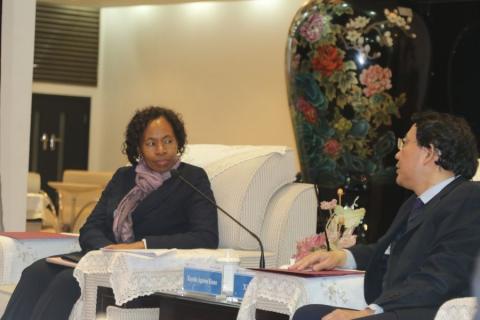 On Tuesday 17th December 2019, the Permanent Secretary – Ministry of Higher Education Ms Kayula Siame led a delegation from the Ministry of Higher Education and the University of Zambia to Shaanxi Province in Xian City where  Professor Luke Mumba, on behalf of the University of Zambia signed an overall strategic cooperation memorandum of understanding with Xian Jiaotong University (XJTU) one of the top Universities in China.
XJTU is a comprehensive research University with an international reputation for research in science and technology. The said University has 10 major categories of disciplines namely science, engineering, medicine, economics, management, humanities, law, philosophy, education and art. XJTU has nine university colleges for undergraduate programmes and has twenty affiliated teaching hospitals.  XJTU now has 40,346 full-time students, including 19,629 postgraduates and 2,800 international students from over 136 countries. It is also noteworthy that XJTU has since 1956 won 78 national-level awards for excellence in teaching.
Speaking at the signing ceremony, Ms Kayula Siame stressed the importance of the partnership between the University of Zambia and Xian Jiaotong University and urged the University of Zambia to seek out human capital development opportunities aimed at enhancing UNZA's strategic position in addressing some of the challenges the Country was facing.   
She said, 'as we build on the journey of working together which we are embarking upon today, there is need to take action in equipping our people with skills required for national transformation which include artificial intelligence,  machine learning, quantum data analytics, automation, robotics, nano technology and biotechnology.'
Vice Chancellor Prof Luke Mumba expressed optimism that this collaboration would create more capacity for the University of Zambia through the Belt and Road Joint Research Centre to strengthen postgraduate training, staff exchanges, joint research and joint professional workshops and conferences across the thirteen Schools.