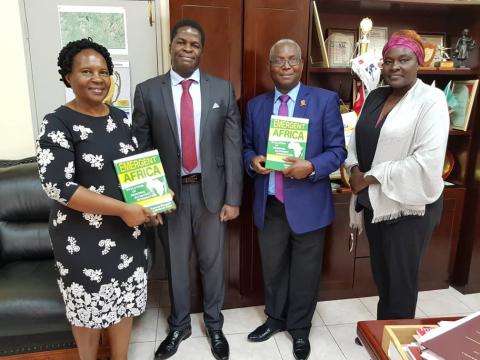 Director of Trade Customs and Monetary Affair of the Common Market for Eastern and Southern Africa (COMESA), Dr Francis Mangeni, has donated 10 copies to the University of Zambia (UNZA) of the book he co-authored with Calestous Juma, entitled "Emergent Africa – Evolution of Economic Integration" on Monday, 24th February 2020.
And receiving the copies, UNZA Vice-Chancellor, Prof Luke Mumba, thanked Dr Mangeni for his kind gesture to promote higher education in Zambia as many students would be using the copies for assignments and research. Prof Mumba called upon well-wishers to emulate Dr Mangeni and contribute books for the University.
Prof Mumba was accompanied by UNZA Deputy Vice-Cahncellor, Prof Enala Tembo-Mwase and UNZA Librarian, Ms Christine Kanyengo.
The book, "Emergent Africa – Evolution of Economic Integration", explains the theory and practice of economic integration in Africa in a new and comprehensive manner to enable an appropriate appreciation of feats like the African Continental Free Trade Area and Agenda 2063. And it aims to inspire new generation of pan Africanists and serve as teaching and reference material.
The 10 copies of the book will be placed in the University Main Library at the Great East Road campus of UNZA.