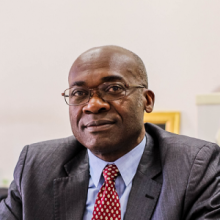 Department of Soil Science
Biography
Academic Qualifications:
Ph.D. Soil Science, Aberdeen University (1988)
B.Sc. Agricultural Science, University of Zambia (1982)
Dr. Benson H. Chishala was elected to the office of Dean, School of Agricultural Sciences, in December 2016 for a three-year period commencing January 2017 to December 2019. Since joining faculty at the University of Zambia (UNZA) in 1992, Dr. Chishala has been involved in all the core activities of the university. In addition, he has held a number of administrative positions in the school, most notable among them are the following: Assistant Dean (research), Assistant Dean (Postgraduate) and Head of Department (Soil Science). Before he joined the university, Dr. Chishala worked as a researcher (mainly in soil science research) for the then Ministry of Agriculture and Water Development from 1982 to 1991 holding several portfolios including the position of Chief Agricultural Research Officer.
At UNZA, he teaches both undergraduate and postgraduate courses such as Integrated Land Husbandry, Soil Fertility and Fertilizers, Soil Mineralogy, Soil Conservation, Soil and Plant Analysis and Plant Nutrition. Dr. Chishala has also served as a consultant to different organizations including the Environmental Council of Zambia (ECZ), Ministry of Agriculture and Co-operatives (MACO), SGS Zambia, Smallholder Enterprise and Marketing Programme (SHEMP) and Economic Expansion in Outlying Areas (EEOA). In 1997 he headed a team engaged by Anglo American Corporation of South Africa to carry out a Specialist Environmental Assessment of Soil Pollution in the Vicinity of the Mufulira Smelter and the Konkola Deep Mining Project License Area in Zambia. Recently he has carried out consultancy works for FAO and SADC related to regional agricultural policy.    
As Dean, Dr. Chishala has prioritised the following as key issues that he intends to address during his term of office:
Improve lecture, laboratory and office space (for staff and postgraduate students)
Facilitate acquisition of transport for students to be used for educational field trips
End water reticulation problems 
Enhance financial management systems 
Improve the process of handling staff promotions
 
Contact Details
Tel: +260 211 250 587, bchishala@unza.zm, dean-agric@unza.zm