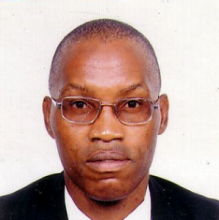 Department of Animal Sciences
Biography
Academic Qualifications:
Ph.D. Nutritional Biochemistry, University of Manitoba, Canada.
M.S. Animal Nutrition, University of Manitoba, Canada.
B. Agric Sc. Animal Science, University of Zambia

Dr. Simbaya joined the university as a lecturer in 2007. Prior to that, he worked as a senior Scientific Research Officer for the National Institute for Scientific and Industrial Research Institute from 1996 to 2003. He then took up the position of Principal Research Officer and then Vice Principal for the Palaban Dairy Training Institute, under Livestock Developmemt Trust. At the university, he is involved in the core activities of the university: teaching, research and community service. He currently teaches undergraduate and postgraduate courses. His research interest areas include climate smart agriculture, pasture and fodder crops for improved feeding of ruminants, productivity of dairy animals and effective disease diagnosis, exogenous enzyme preparations and nuclear techniques for improved utilization of fibrous feed materials, management strategies for improved production of meat and milk and goat and chicken rearing techniques for improved food security. 
Publications
On-going Research
2016 to Present – Scaling up climate smart agriculture in Zambia – Research project supported by the Food and Agriculture Organization. (Coordinated by Dr. Sianangama).
2015 to Present – On-farm development of pasture and fodder crops for improved feeding of ruminants to enhance food security and income generation among small scale farmers in Lusaka Province. (Funded by the World Bank through the Livestock Development and Animal Health Project in the Ministry of Agriculture and Livestock) (The project is Worth K211,000.00).
Selected Publications
Chibinga, O.C., M. M. Nyangito N.R.K. Musimba, J. Simbaya, M.T. Daura. 2016. Effect of coppicing levels on the re-growth Julbernardia globiflora. Livestock Research for Rural Development 28 (3): 1-7.
Simbaya, J., K.E. Yambayamba, P.C. Sianangama and J.C.N. Lungu. 2015. Development strategies for genetic improvement and conservation of indigenous livestock breeds in Zambia. Zambian Journal of Agricultural Science. 10 (: 1-6.
Simbaya, J., K.E. Yambayamba, O. Chibinga and P.C. Sianangama. 2015. Feasibility for increase utilization of crop-residues to improve milk production and reduce greenhouse gas emissions from cattle on smallholder daury farms in Mazabuka District of Zambia. Zambian Journal of Agricultural Science. 10 (2): 125-131.
Chibanga, F. J., D.B. Nyirenda and J. Simbaya. 2014. Effects of supplementing different levels of Vitamin A to Aflatoxin B1 contaminated diets on the performance of broiler chickens. Asian Journal of Natural and Applied Sciences. 3 (: ISSN 2166 – 8476. Leena and Luna International, Oyama, Japan.
Kanyinji, F., Banda E. and Simbaya J. 2014. Effects of partially replacing maize meal in broiler finishing diets with rumen filterate fermented – maize bran on broiler chicken performance. International Journal of Livestock Research 4 (: 28 – 34. ISSN 2277-1964 ONLINE. Hosted@www.ijlr.org.