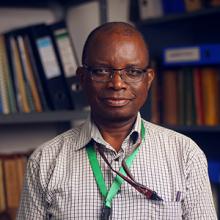 Department of Soil Science
Biography
Academic Qualifications:
Ph.D. (Calif.-Davis),
M.Sc (Newcatle Upon Tyne)
B.Agric. Sc. (UNZA)
Was invited to join the Department of Soil Science as a Staff Development Fellow after graduating in 1975. He worked up the academic ladder at UNZA and was promoted through two ranks during 1977- 1988, to Senior Lecturer in 1989, Associate Professor in 2001 and to Professor in 2009. Served as Head of Department several terms and as Dean of the School of Agricultural Sciences 2000-2004 before retirement in 2004. During 1992 -1996 was on leave of absence from UNZA and lectured at Limpopo University (1992-1993) and served as Rector at Madzivhandila College of Agriculture (1993 -1996), South Africa. He was tasked to manage and integrate the Bantustan institution into the mainstream new South Africa. From 2004 to 2014 he was on UNZA/Golden Valley Agricultural Research Trust (GART) joint appointment and served at GART as Soil Management Specialist under the R & D Department, researching and promoting sustainable agricultural technologies.
Research Interests
Amelioration of soil acidity—Diagnosis of soil acidity and determination of economical lime requirements for highly weathered tropical soils.

Exploitation and development of local fertilizer resources involving evaluation of phosphate rock (PR) processed products for agronomic effectiveness.
Publications
On-going Research
Micronutrient bio-fortification of staple crops; Soil carbon and nutrient cycling through biomass and soil amendments for improved soil productivity.
Selected Publications
Ram, H. et al. 2016 (Lungu ,O.I. Principal Investigator on the Zambian study). Biofortification of wheat, rice and common bean by applying foliar zinc fertilizer along with pesticides in seven countries. Plant Soil. DOI 10.1007/s11104-2815-3.
Zou, C.Q. et al. (Lungu, O.I.Principal Investigator on the Zambian study). 2012. Bio-fortification of wheat with zinc through zinc fertilization in seven countries. Plant Soil 361: 119-130.
Ntlou, N., O.I. M. Lungu and V. Shitumbanuma, 2001.  Effects of planting depth and soil crusting on emergence and seedling establishment of sorghum. UNISWA Res. Journal of Agriculture.  5(1): 60-67.
Lungu, O.I.M. and R.F.P. Dynoodt.  2008. Acidification from long-term use of urea and its effect on selected soil properties. African Journal of Food Agriculture Nutrition and Development. 8 (1): 63-76.
Manjoka, J., O.A Yerokun, O.I. Lungu and K. Munyinda. 2007.  Changes in soil organic matter and soil aggregation of a Zambian Oxisol after applying lime. International Journal of Soil Science. 2(3):190-196.
Lungu, O.I., J. Temba, B. Chirwa, and C. Lungu, l993. Effects of lime and farmyard manure on soil acidity and maize growth on an acid Alfisol from Zambia.  Tropical Agric. (Trin.). 70 : 309 - 314.
Gill, K.S., J.S. Lenvain, and O.I. Lungu, l992.  Physical conditions of two Oxic Paleustalfs and the response of wheat to irrigation based on Iw/COPE ratio.  Zambian J. Agric. Sci. 3: l - 6.
Lungu, O.I. and D.M. Lungu, l990.  A review of the practical utility of aluminium tolerance in Maize (Zea mays L.)  Zam. J.  Agric Sci. l: 5 - 9.
Gill, K.S., W. Soko, and O.I.M. Lungu, l987.  Influence of residue mulch, tillage and soil water on seedling emergence and initial growth of maize, Zim. J. Agric. Res. 25:33-40.